Culture politique et pouvoirs locaux en Bretagne (1935-1953)
In Brittany, the transformation of the local authorities (1935-1953) is brought about the past and the political culture. The results to the elections in 1945 are an addition between the political cultures and the events of short term. If the foundation of local political cultures are not modified, the recent events involve a growth of left forces. In 1953, the political cultures have integrated the Second World War but in insuperable limits. In this same time, the transformations of the local elites begin.
En Bretagne l'évolution des pouvoirs locaux (1935-1953) est fortement déterminée par le poids du passé, de la culture politique. Les résultats aux élections de 1945 montrent un télescopage entre les cultures politiques et les événements du court terme. Si les fondements des cultures politiques locales ne sont pas altérés, les événements récents se traduisent par une montée des forces de gauche. En 1953, on s'aperçoit que politiquement les cultures politiques ont intégré la Seconde Guerre mondiale mais dans des limites précises qui paraissent infranchissables, tandis que socialement les transformations des élites locales commencent à s'amorcer.
Fichier principal

Culture_politique.pdf (287.63 Ko)
Télécharger le fichier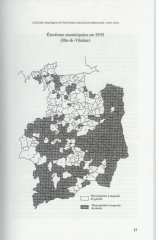 Elections_municipales_en_1935.jpg (793 Ko)
Télécharger le fichier