Entre visibilité et invisibilité, les formes spatiales gays dans la ville.
One method of study available to the geographer is to penetrate the invisible, the hidden, through the visible. The very nature of homosexuality renders research into gay spaces difficult to consider outside mediatic, fantasized or decried spaces like the Marais. Beyond that, one may debate on the form(s) visible in the Marais, on what is accessible to the untrained eye. Hence the question: what gives form? But also: who sees what ? Would a space visible to an actor be visible to all ? Through gay spaces, the geographer interrogates perception, and the representation of spatial forms.
De par la nature même du statut social de l'homosexualité, rechercher les espaces gays n'est pas immédiatement donné. Par contre à travers l'étude des formes spatiales gays à différentes échelles, le géographe peut mettre en évidence une visibilité différentielle de l'homosexualité qui peut se résumer par la formule : plus on approche de l'individu moins la visibilité est importante. Ce paradoxe est le fruit des ambiguïtés de la société face à la question gay. Les différentes formes spatiales gays font émerger un pacte de l'opacité.
Fichier principal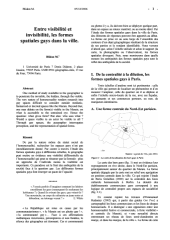 GP04C-BLIDON.doc.def.pdf (1016.96 Ko)
Télécharger le fichier
Origin : Files produced by the author(s)