Valorisation et exploitation scientifiques de documents numériques pour la recherche en linguistique : l'exemple du CNRTL
Founded in 2005 under the auspices of the French National Centre for Scientific Research (CNRS), the
CNRTL offers a unified platform to access electronic resources and documents for linguistic research on the French
language. Provided services include identification, documentation (metadata), standardisation, archiving, enrichment and
distribution of resources. The sustainability of services and data is ensured through the CNRS institutional support, the
hosting by a public research institute in linguistics and NLP of CNRS and Nancy University (ATILF – Analyse et
Traitement Informatique de la Langue Française), and integration into the european networks of resource centres for the
humanities (CLARIN and DARIAH).
Créé en 2005 à l'initiative du Centre National de la Recherche Scientifique, le CNRTL propose une plateforme
unifiée pour l'accès aux ressources et documents électroniques destinés à l'étude et l'analyse de la langue
française. Les services du CNRTL comprennent le recensement, la documentation (métadonnées), la normalisation,
l'archivage, l'enrichissement et la diffusion des ressources. La pérennité du service et des données est garantie par le
soutien institutionnel du CNRS, l'adossement à un laboratoire de recherche en linguistique et informatique du CNRS et
de Nancy Université (ATILF – Analyse et Traitement Informatique de la Langue Française), ainsi que l'intégration dans
les réseaux européens CLARIN et DARIAH.
Fichier principal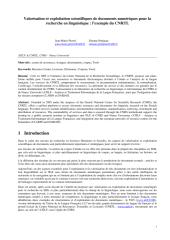 2007_Pierrel_article_CIDE_2007.pdf (194.26 Ko)
Télécharger le fichier
Origin : Files produced by the author(s)