Territorial intelligence and the three components of territorial governance.
Globalization processes, on the one hand, and political decentralization, on the other, have increased the complexity of decision making processes on a territory, and have demanded updating the three basic components of territorial governance: cognitive, i.e., the way of thinking and understanding the territory and, as a result, territorial development; socio-political, i.e. the way in which abilities, responsibilities and resources are negotiated in the new decentralized political map; and technological-organizational, that is, the networks of actors and tools to act on the territory. This communication considers that the emergence of the concept of territorial intelligence takes place in parallel with these transformations in the different dimensions of territorial governance in the transition from the "information society" to the "knowledge society". In the first section the concept of territorial governance is presented. Its three main components -cognitive, socio-political, and organizational-technological- are presented in the second section. The third section analyses the way in which these three components of territorial governance are affected by the characteristics of the knowledge society. As a conclusion, in the fourth section it is claimed that the development of territorial intelligence is a consequence of the transformations undergone by the different dimensions of territorial governance in a context of globalization and political decentralization in the current knowledge society.
Los procesos de la globalización, por un lado y de la descentralización política, por otro, han incrementado la complejidad de los procesos de toma de decisión sobre un territorio y han exigido la renovación de las tres componentes básicas de la gobernanza territorial: la cognitiva, es decir, la forma de pensar y entender el territorio y en consecuencia el desarrollo territorial; la socio-política, es decir, la forma en la que se negocian las competencias, responsabilidades y recursos en el nuevo mapa político descentralizado; y la tecnológica organizacional, o sea, las redes de actores y cajas de herramientas para la actuación sobre el territorio. Esta comunicación plantea que la emergencia del concepto de inteligencia territorial se produce en paralelo con estas transformaciones en las diferentes dimensiones de la gobernanza territorial en el tránsito de la "sociedad de la información" a la "sociedad del conocimiento". En el primer apartado se presenta el concepto de gobernanza territorial. En la segunda sección se plantean sus tres principales componentes: cognitiva, socio-política y tecnológica organizacional. El tercer apartado analiza la forma en que estas tres componentes de la gobernanza territorial se ven influidas por las características de la sociedad del conocimiento. A modo de conclusión, en la cuarta sección se argumenta que el desarrollo de la inteligencia territorial es una consecuencia de las transformaciones de las diferentes dimensiones de la gobernanza territorial en un contexto de globalización y descentralización política en la actual sociedad del conocimiento.
Fichier principal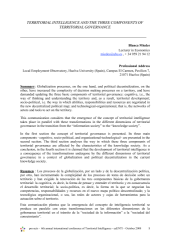 INTI-2008-Besancon-Miedes.pdf (207.96 Ko)
Télécharger le fichier
Origin : Files produced by the author(s)