How to deal with the conflicting views of the world expressed in regional economic development policies?
The work presented here considers mainly territorial intelligence as a cooperative system in support of public decision-making. The paper is organised in three parts, each of them presenting a particular stage of our approach. A first stage is dedicated to the analysis of the knowledge that can be identified (or re-constructed) on the basis of the texts issued by the regional government, and of the regional actors' speech. This analysis is led through a threelevel grid: the level of views of the world, that of models and that of norms. During the second stage, the knowledge previously identified is structured in the form of ontologies. Conflicting views of the world can lead to concurrent ontologies that can be so described as polydoxical ontologies. In a third and last stage the conceptualisations built in the previous stage are embedded in some (basic) decision support tools that are proposed to the regional decision-makers.
Le travail présenté ici considère l'intelligence territoriale avant tout comme un système coopératif d'aide à décision publique. Le papier est organisé en trois parties, chacune représentant une étape particulière de notre démarche. Une première étape est consacrée à l'analyse de la connaissance qui peut être identifiée (ou reconstruite) dans les textes et le discours des acteurs régionaux. Cela analyse est menée à l'aide d'une grille à trois niveaux : le niveau des visions du monde, celui des modèles et celui des normes. Lors de la deuxième étape, la connaissance précédemment identifiée est structurée sous forme d'ontologies. Des visions du monde incompatibles peuvent mener à ontologies concurrentes que l'on peut qualifier alors de polydoxiques. Dans une troisième et dernière phase les conceptualisations construites à l'étape précédente sont utilisées comme base pour des outils d'aide à la décision (simples), proposés ensuite aux décideurs régionaux.
Fichier principal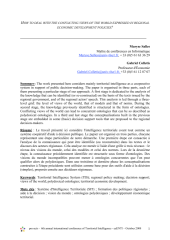 INTI-2008-Besancon-Salles.pdf (288.43 Ko)
Télécharger le fichier
Origin : Files produced by the author(s)