La représentation sociale de l'hygiène chez les professionnels de santé : Intérêt du recueil par entretien et de l'analyse discursive des opérateurs de liaison issus du modèle des Schèmes Cognitifs de Base (SCB)
The aim of this study is to show the professional representation of hygiene by health care workers: Nurses (N) and Health Care Aides (HCA). Method follows the BSC (Basic Cognitive Schemas) procedure, explicative interviews substitute to the evaluation task. An analysis of associative words points out that the valency of the element cleanliness is significantly higher than those of the others elements, in the two groups of participants. For HCA hygiene is associated with acts linked with corporal hygiene and with two synonymous: no trace, no germ For nurses hygiene is associated with health care. Discussion underlines the interest of this method for professional representations studies and nosocomial infections strength.
L'objectif de cette étude est de mettre en évidence les représentations professionnelles de l'hygiène auprès des infirmières et aides-soignantes. Le dispositif suit et affine la méthode des Schèmes Cognitifs de Base. Il repose sur une tâche d'associations verbales et des entretiens d'explication. L'analyse montre que la valence de l'élément propreté est significativement plus élevée que celle des autres éléments, et ce chez les deux groupes de participants. Une analyse des mots associés fait apparaître que pour les aides-soignantes l'hygiène renvoie essentiellement à des actes d'hygiène corporelle personnelle, mais également à deux ensembles de synonymes " sans traces " et " sans microbes ". Chez les infirmières elle renvoie à des actes de soins. La discussion porte sur l'intérêt d'une telle méthode pour l'étude des représentations professionnelles et dans le cadre de la lutte contre les infections nosocomiales.
Fichier principal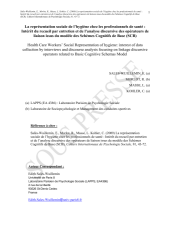 SALES-WUILLEMIN_et_al_Cahiers_Internationaux_de_Psychologie_Sociale_2009_INPRESS.pdf (962.93 Ko)
Télécharger le fichier
Origin : Files produced by the author(s)