" La science des urines de Maurus de Salerne et les Sinthomata magistri Mauri inédits "
Born by 1130, the salernitan doctor Maurus died in 1214, and his numerous writings are today rather scattered and sometimes not even published. The medical semiology holds a big part in its production, and he wrote about urines, blood, and fever; the uroscopy in particular takes the lion's share there, and we shall not forget neither that he composed a comment on Theophilus, nor that he wrote a comment of the Aphorisms of Hippocrates speaking about many of the urines. Furthermore, the anonymous Liber de urinis passed on by the famous codex of Breslau disappeared in 1945 (olim Stadtbibliothek, 1302, F 156r-174v) is apparently due to Maurus. Besides his main uroscopic treatise, the Regulae urinarum edited by Renzi in the XIXth century, it is necessary to count here also with the Sinthomata magistri Mauri preserved in two 13th century codices, mss Erfurt, Wissenschaftliche Bibliothek, Amplon. Quarto 182, and Vatican, B.A.V ., Pal. Lat. 1253. This ascendancy of urines in its work is reflecting what we know about the role of uroscopy in Salerno during the XIIth century. This paper presents at first the thought and the salernitan production on the subject, then situates the work of Maurus in this frame, and presents in detail the unpublished Sinthomata magistri Mauri, whose exact connections with the rest of his work still have to be investigated and clarified.
Né vers 1130, le médecin salernitain Maurus mourut en 1214, laissant une œuvre aussi abondante qu'aujourd'hui assez dispersée. C'est surtout la sémiologie médicale qui tient une grande place dans sa production avec la triade urines, sang, fièvre ; l'uroscopie en particulier s'y taille la part du lion, et l'on n'oubliera ni qu'il a laissé un commentaire sur Théophile, ni qu'il a composé un commentaire des Aphorismes d'Hippocrate parlant beaucoup des urines, ni surtout que le Liber de urinis anonyme transmis par le fameux codex de Breslau aujourd'hui disparu (olim Stadtbibliothek, 1302, f. 156r-174v) est selon toute vraisemblance dû à Maurus. Outre des Regulae urinarum éditées par De Renzi au XIXe siècle, il faut compter aussi avec les Sinthomata magistri Mauri conservés dans deux témoins connus à ce jour, les mss Erfurt, Wissenschaftliche Bibliothek, Amplon. Quarto 182, et Vatican, B.A.V., Pal. Lat. 1253, tous deux du XIIIe siècle. Cette prépondérance des urines dans son œuvre ne fait que refléter ce que l'on sait du rôle de l'uroscopie dans la Salerne du XIIe siècle. On présente donc d'abord ici la pensée et la production salernitaines en la matière, avant d'y situer l'œuvre de Maurus puis les Sinthomata magistri Mauri inédits, dont les rapports avec le reste de son œuvre demandent à être élucidés.
Fichier principal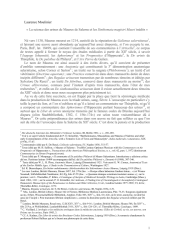 ArticleSinthomata.pdf (219.9 Ko)
Télécharger le fichier
Origin : Files produced by the author(s)