How Gender Inequalities Hinder Development : Cross-Country Evidence
This paper assumes that gender inequality hinders economic and human development : a one standard deviation change in the Gender Inequality Index (GII) will increase long term income per capita by 9,1% and Human Development Index (HDI) by 4%. Gender inequality may be a explanation of economic development differences : 16% of the long term income difference between South Asia and East Asia & Pacific can be accounted for by the difference in gender inequality. Moreover, this paper provides evidence of a vicious circle between gender inequality and long term income. The multi-dimensional concept of gender inequality is measured by a composite index with endogenous weightings : the Gender Inequality Index (GII). To correct endogeneity and simultaneity problems, the two-stage and three-stage least square methods are used separately. In this way, the steady state per capita income and the human development levels are estimated for 109 developing countries.
Cet article suppose que les inégalités de genre freinent le développement économique et humain : une variation d'un écart-type de l'indicateur d'inégalités de genre (GII) augmente le revenu de long terme par habitant de 9,1% et l'indice de développement humain (IDH) de 4%. Les inégalités de genre peuvent être une explication des différences de développement économique : 16% de l'écart de revenu entre le sous-continent indien et l'Asie du Sud Est peut être expliqué par la différence en termes d'inégalité de genre. En outre, un cercle vicieux entre inégalités de genre et revenu de long terme est mis en évidence. Le concept multidimensionnel d'inégalité de genre est mesuré par un indicateur composite avec pondérations endogènes (GII). Pour corriger les problèmes d'endogénéité et de simultanéité, les doubles et triples MCO sont utilisés.
Fichier principal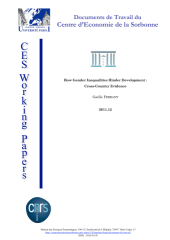 11012.pdf (655.48 Ko)
Télécharger le fichier
Origin : Files produced by the author(s)