The Making of Climate Change Policy: Expertise, Interplay of Scales and Territorialization in the Case of France
This working paper presents an ongoing research project that aims at better understanding the new forms of climate change governance in industrialized countries. In this regard, it addresses an emerging issue regarding the public policy of environmental protection: the making of climate plans. An interesting example of this is to be found in France, where the issue was recently debated through the Grenelle de l'environnement, an extensive consultation on sustainable development. Two intertwined questions arise from this experiment: How can actors translate global imperatives into national specificities and constraints, and what are the implications of the concomitant hybridization processes for local territories and their populations? To answer these questions, this article provides an overview of the main empirical fields to be explored, and proposes to combine the contributions of the political sociology of public action with those of science studies, particularly those emanating from the sociology of translation.
les nouvelles formes de gouvernance qui se déploient aujourd'hui en matière de changement climatique dans les pays industrialisés. Dans cette perspective, il traite d'une question émergente en matière de politiques publiques de l'environnement : celle de la mise en place de plans climat. La France en fournit un cas exemplaire, suite aux récents débats organisés dans le cadre du Grenelle de l'environnement. De cette expérience résulte un double questionnement : comment s'opère la traduction au niveau national d'impératifs globaux sur le changement climatique, et quelles sont les implications des processus d'hybridation qui en découlent pour les territoires et leurs populations ? Pour y répondre, l'article expose une vue d'ensemble des principaux champs de recherche empirique à explorer, et propose de croiser les apports la sociologie politique de l'action publique avec ceux de la sociologie des sciences, en particulier la sociologie de la traduction.
Fichier principal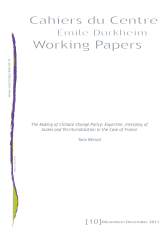 Cahier du CED_10_final.pdf (873.68 Ko)
Télécharger le fichier
Origin : Files produced by the author(s)