Approche systémique du langage et ses niveaux de conscience
This paper concerns the application of systemic concepts to the language. Some historical anchorages of linguistics suggest that the idea is not really innovative, only its formulation can be so, because of a better understanding of neurophysiology and neuropsychology of language. However, for more of a century, in 1891, the precursor of linguistics study, Ferdinand de Saussure, had already addressed this issue. From the perspective of the structure o language, the concepts developed here are the global and unitary dimensions, the anticipation and recursion, in their relations to time and space. From the perspective of the speaking subject, we discuss the notion of consciousness and its degrees, in a dynamic that concerns at the same time the normal and pathological productions. It was the epistemological revolution in neuropsychology and now in linguistics.
ancrages historiques de la linguistique semblent montrer que l'idée n'aurait de neuf que, d'une part, son mode de reformulation aujourd'hui et, d'autre part, une meilleure connaissance de la neurophysiologie et de la neuropsychologie du langage. Or, il y a plus d'un siècle, en 1891, le tout premier linguiste, Ferdinand de Saussure, avait déjà abordé cette question. Du point de vue de la structure de la langue, les concepts essentiels développés ici sont l'unité, la globalité, l'anticipation et la récursivité, dans leurs relations au temps et à l'espace. Du point de vue du " sujet parlant ", nous évoquons la notion de conscience et ses degrés, dans une dynamique qui concerne à la fois l'expression normale et pathologique, aspects de la véritable révolution épistémologique de ces dernières années, d'abord en neuropsychologie et aujourd'hui en linguistique.
Fichier principal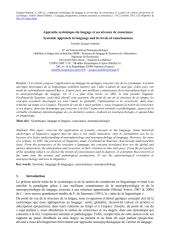 SYSTEMIQUE_ARTICLE_04-10-11_JACQUET2.pdf (385.29 Ko)
Télécharger le fichier
Origin : Files produced by the author(s)