Le tribunal comme lieu de savoir et de pouvoir : le rôle de l'expertise médico-légale dans l'émergence de la psychopathologie de la sexualité
This essay fits in with the still topical problematics raised by Michel Foucault in his works related to the history of sexuality and abnormality. The sexual norm has been defined in the XIXth century as a medical norm following the criteria of healthy and pathological, normal and perverse. Foucault specifically addresses the issue of the effects of knowledge on powers. This essay suggests a correlative but as crucial question: what are the effects of specific mecha- nisms of power on the development of knowledge? Thus this reflection seeks to point out the central function of forensic psychiatric expertise on the psychopathology of sexuality development in the second part of XIXth century. Homosexuality was the focal perversion for psychiatry of sexual aberrations. But specific juridical and judicial condi- tions, including practice of forensic psychiatric expertise, have drawn, through their effects, the psychiatric knowledge scene and at the same time the sexual norm it searched to define. To look back on this historical moment has then another objective: to question the mechanisms of norm construction, across science, society, and politics.
Cet essai s'inscrit dans la problématique toujours actuelle ouverte par Michel Foucault dans ses travaux sur l'histoire de la sexualité et l'anormalité. La norme sexuelle a en effet été définie au XIXe siècle comme une norme médicalisée obéissant aux critères du sain et du pathologique, du normal et du pervers. Foucault interroge spécifiquement les effets du savoir au sein des pouvoirs. Subsiste alors une interrogation corrélative mais tout aussi essentielle : celle des effets des dispositifs concrets et spécifiques de pouvoir sur le développement du savoir. Cet essai a ainsi pour vocation de mettre en évidence la fonc- tion centrale de la pratique de l'expertise psychiatrique sur le développement de la psychopathologie de la sexualité dans la seconde moitié du XIXe siècle. L'homosexualité fut, pour la psychiatrie des aberrations sexuelles, la perversion phare. Mais ce sont des conditions juridiques et judiciaires spécifiques, dont la pratique de l'expertise, qui ont modelé par leurs effets ce savoir psychiatrique, et ainsi la norme sexuelle qu'il cherchait à définir. Revenir sur ce moment historique a dès lors une autre fonction, celle de questionner le mode selon lequel les normes se construisent, entre science, société, et politique.
Fichier principal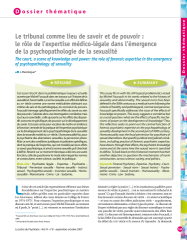 13672.pdf (265.4 Ko)
Télécharger le fichier
Origin : Publisher files allowed on an open archive