"Tightrope walking the twenty-first century": Jeanette Winterson's vital connections with Modernism
In Art Objects (1995), her aesthetic manifesto, Jeanette Winterson calls for a new literature for the new millennium, and new forms of writing that could "answer to twenty-first-century needs". Far from repudiating the past, Winterson urges the twenty-first-century artist to turn to previous generations for inspiration, and to draw poetic power from the "lineage of art". Since "every new beginning prompts a return", before he/she can fully experiment with language, the true artist must first experience his/her vital connections with the past, not in the spirit of ancestor worship, but to reclaim past literature, "(re-state) and (re-instate) (it) in its original vigour". Striking a delicate balance between continuity and emancipation, responsibility and freedom, the new millennium artist, vitally connected to the past, but in search of his/her own voice, must practice the difficult art of the tightrope walker, uniting two worlds on the "taut line" of language. Because they were able to master this difficult art – breaking new ground, but writing with "generations at (their) back(s)" – it is towards Modernist writers that the new generation must turn for inspiration, and more particularly towards the works of Virginia Woolf. In an attempt to highlight the fruitful tensions between early-twentieth-century and early-twenty-first-century literature, this paper looks at Winterson's "cover versions" of key Woolfian subtexts, in her works published in the new millennium – The.Powerbook (2000), Lighthousekeeping (2004), The Stone Gods (2007), and her recently published memoir, Why Be Happy When You Could Be Normal? (2011).
Dans Art Objects (1995), son manifeste esthétique, Jeanette Winterson appelle de ses voeux une nouvelle littérature pour le nouveau millénaire, et de nouvelles formes d'écriture répondant aux attentes du vingt-et-unième siècle. Loin de renier le passé, Winterson encourage les artistes contemporains à s'inscrire dans la lignée des grandes figures qui les ont précédés. Puisque " chaque nouveau départ implique un retour ", avant toute innovation formelle, le véritable artiste doit faire l'expérience des liens vitaux qui l'unissent aux œuvres produites par les générations antérieures, non pas pour les sacraliser, mais pour " réaffirmer l'actualité de la littérature du passé, et lui rendre sa vigueur originelle ". Maintenant un équilibre délicat entre continuité et émancipation, engagement et liberté, l'artiste contemporain, lié au passé, mais à la recherche de sa propre voix, doit pratiquer l'art délicat du funambule, unissant deux mondes sur la " corde raide " du langage. Parce qu'ils étaient passés maîtres dans cet art difficile, consistant à explorer de nouveaux territoires tout en faisant entendre les voix du passé, c'est vers les modernistes que la nouvelle génération doit se tourner, et plus particulièrement vers l'œuvre toujours actuelle de Virginia Woolf. Pour mettre en évidence les tensions productives qui existent entre les débuts des vingtième et vingt-et-unième siècles, cet article examine les réécritures de l'intertexte woolfien dans l'œuvre de Jeanette Winterson, plus particulièrement dans ses écrits des années 2000, comme The.Powerbook (2000), Lighthousekeeping (2004), The Stone Gods (2007), et son autobiographie récente, Why Be Happy When You Could Be Normal? (2011).
Fichier principal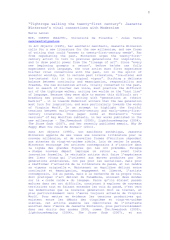 02_T_C2012_MLaniel.pdf (313.08 Ko)
Télécharger le fichier
Origin : Publisher files allowed on an open archive