Entre logiques d'Etat et autochtonie: dynamiques de la territorialité mapuche à l'heure du droit à l'autodétermination des Peuples Autochtones
The territory of the Mapuche, which was independent until the end of the nineteenth century, has been under siege militarily and legally by the Chilean state since then, and there is no place in Chilean law for any form of indigenous territory. Chile's integration into the global economy and its acceptance of increasingly specialized international law have begun to influence Mapuche territoriality. While contemporary Chile operates according to the logic of markets and neoliberal economics, Mapuche territoriality has reappeared in a variety of collective forms ranging from the territory of a Mapuche Nation, to lof, and concepts such as "territorial identities" and "functional community." International law provides a framework for a process of decolonization that recognizes indigenous peoples' right to self-determination, and reinstates indigenous territoriality not only in terms of being designated as such, but also as a way of life. This article explores the dimensions and dynamics of Mapuche territoriality through the relationships indigenous groups maintain with national and international law.
Libre jusqu'à la fin du XIXème siècle, le territoire mapuche est combattu militairement et juridiquement pendant plus d'un siècle par l'Etat chilien et toute forme de territorialité indigène est ignorée du droit positif chilien. Les atteintes portées au territoire chilien au cours du XXème siècle du fait de son insertion au sein de l'économie mondiale et de sa soumission à un droit international chaque jour plus spécialisé ne seront pas sans influence sur la territorialité mapuche. Tandis que le territoire chilien s'offre à la logique des marchés et de l'économie néolibérale, la territorialité mapuche réapparait aujourd'hui, dans sa dimension collective et sous une polyvalence de formes, allant du territoire d'une Nation mapuche, à celle du lof, en passant par celui des titres communautaires, des " identités territoriales " et de la " communauté fonctionnelle ". Prônant un processus de décolonisation marqué par la reconnaissance du droit à l'autodétermination des peuples autochtones, le droit international réinstaure la territorialité indigène, en termes de démarcation mais aussi de mode de vie. Cet article propose d'explorer les dynamiques et différentes dimensions de la territorialité mapuche dans les rapports qu'entretiennent leurs populations avec le droit national et international.
Fichier principal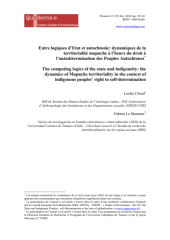 Quaderns.pdf (382.23 Ko)
Télécharger le fichier
Origin : Files produced by the author(s)