Social cohesion and innovation: increasing resilience
At a time of crisis like the present it seems that the territories are even more vulnerable and fragile: emerging social issues, made of new poverty, new needs, a frayed social fabric and lack of social networks. This "syndrome of weakness" can be remedied only if the collective intelligence of an area fails to activate development policies for education and culture of legality, stimulating communities practices and investing in intangible factors of development (such as construction and socialization of new knowledge, social capital, good practices of a territorial intelligence). There are many different conditions in which these invisible factors are materialized, differentiating the performance of certain areas than others. It is so spoken about external economies; of benefits of cooperation in a context of stable and repeated relationships; of use of trust as the glue of a local division of labour; of community spirit in the relationships between economic operators who share the same vision of things and the same story; of increasing returns triggered by localized dynamic learning; of sharing knowledge, professional practices and rules of social behaviour in order to favour social and systemic innovation. This new paradigm - that sees social cohesion as a premise and not as a result of the development - should ensure the broadest participation of citizens in the decision making processes of governance and therefore the sustainable human development.
In un momento di crisi come quello attuale, sembra che i territori siano ancora più vulnerabili e fragili. Questa "sindrome di debolezza" può essere risolta solo se l'intelligenza collettiva di un territorio riesce ad attivare politiche di sviluppo per l'istruzione e la cultura della legalità, per la creazione di pratiche di comunità e per l'investimento in fattori immateriali dello sviluppo (socializzazione di nuova conoscenza, capitale sociale, intelligenze territoriali). Questo nuovo paradigma - che vede la coesione sociale come premessa e non come risultato dello sviluppo - potrà garantire la più ampia partecipazione dei cittadini al processo decisionale di governo e quindi uno sviluppo umano più sostenibile.
Fichier principal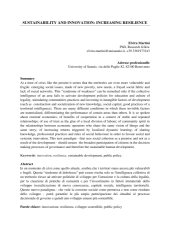 INTI-2013-salerno-MARTINI.pdf (387.36 Ko)
Télécharger le fichier
Origin : Files produced by the author(s)