DEMOGRAPHY, DEMOGRAPHIC TRANSITION, DEMOGRAPHIC POLICIES [DEMOGRAPHIE, TRANSITION DEMOGRAPHIQUE, POLITIQUES DEMOGRAPHIQUES].
The specter of "population explosion" is often invoked today and even to be convinced that it is possible to find in population growth the cause of poverty in many countries. In fact, abusive appeals to demography are often made to confer a kind of scientific justification on programs of action which have heavily ideological connotations. It is therefore necessary to keep in mind the findings of the science of population in order to understand the notably different situations, and to grasp the mechanisms which explain why and in what way demographic changes vary in time and space. These same findings call for an in-depth analysis of development policies.
Il est encore fréquent que l'on évoque le spectre de l'" explosion démographique " et que l'on croie pouvoir trouver dans la croissance de la population la cause de la pauvreté dans de nombreux pays. En fait, la démographie est souvent invoquée abusivement pour donner une apparence de justification scientifique à des programmes d'action à forte connotation idéologique. Il est donc nécessaire de tenir compte des enseignements de la science de la population pour comprendre la diversité considérable des situations, ainsi que pour saisir les mécanismes expliquant pourquoi et comment les évolutions démographiques varient dans le temps et dans l'espace. Ces enseignements appellent eux-mêmes une analyse attentive des politiques de développement.
Fichier principal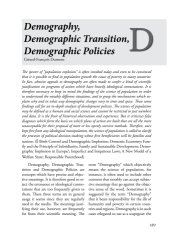 H071-550-DEMOGRAPHIE_LEXICON_GFD.pdf (168.95 Ko)
Télécharger le fichier
Origin : Explicit agreement for this submission