¿Qué vemos de lo que editamos? Visibilidad de la producción editorial científica Argentina en Historia
Approximately 150 journals with articles related to historical studies are published in Argentine. This editorial effort does not always have an impact on the international scientific community. The study will identify the Argentine history journals and their relationship with respect to representation and inclusion in regional and international databases, as well as identifying journals of editorial quality. To undertake this analysis the following databases will be consulted; Latindex, SciELO, RedALyC, Scopus, Dialnet, Catálogo Latindex and the Argentine Scientific Journals Basic Care. The results confirm the hypothesis of the limited visibility of the editorial production on Argentine history in relation to the amount of journals edited in that discipline.
[ES] En Argentina se editan aproximadamente 150 revistas que publican artículos relacionados a los estudios históricos. Pero este esfuerzo editorial no siempre impacta en la comunidad científica internacional. Se identificará el universo de revistas argentinas de historia y su relación con respecto a la representatividad e inclusión en bases de datos regionales e internacionales, además de identificar el conjunto de aquellas de calidad editorial. Para este análisis se consultarán las bases de datos Latindex, SciELO, RedALyC, Scopus y Dialnet, Catálogo Latindex y Núcleo Básico de Revistas Científicas Argentinas. Los resultados corroboran la hipótesis de escasa visibilidad de la producción editorial argentina en Historia en relación a la cantidad de revistas que se editan de la disciplina. También se identifican desigualdades respecto a la inclusión aleatoria en algunas bases con iguales indicadores de evaluación.
Fichier principal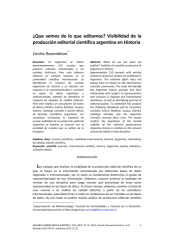 164-496-1-PB.pdf (1.18 Mo)
Télécharger le fichier
Origin : Publisher files allowed on an open archive