Exiliance : condition et conscience
As an existential core in the experience lived by all migrants, whatever the historical and cultural circumstances are, exiliance is both a condition and a consciousness. However, they may not be in sync: one could feel in exile without really be exiled or one could be exiled without feeling it. Among other sources, Kafla's America provides the material to study this phenomenon in its ethical dimension. Other issues to be addressed are the representation of exilic experience and the link between death and exile.
Noyau existentiel commun à toutes les expériences de sujets migrants, quelles que soient les époques, les cultures et les circonstances qui les accueillent ou les suscitent, l'exiliance se décline en condition et conscience, les deux pouvant ne pas coïncider : se sentir en exil sans l'être concrètement ; l'être concrètement sans se sentir en exil. L'analyse de ce phénomène dans sa dimension éthique est menée, entre autres, à partir du roman L'Amérique de Kafka avant d'être poursuivie quant à la question de la représentation de l'expérience exilique ainsi que de son rapport à la mort.
Fichier principal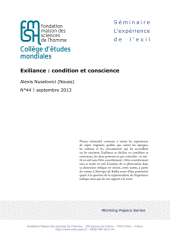 FMSH-WP-2013-44_Nuselovici2.pdf (760.18 Ko)
Télécharger le fichier
Origin : Files produced by the author(s)