AU NOM DE LA LUTTE CONTRE LE CHANGEMENT CLIMATIQUE : LE MÉCANISME POUR UN DÉVELOPPEMENT PROPRE ET SES TRAVERS
On behalf of the struggle against climate change: the Clean Development Mechanism and its drifts Established by the Kyoto protocol, the Clean Development Mechanism (CDM) allows developed countries to meet part of their commitments to reduce their greenhouse gases emissions (GHGE) by investing in projects carried out in developing countries. So, developed countries can receive certified emissions reduction corresponding to the volume of GHGE avoided or reduced in developing countries, and developing countries can claim a clean development. The use of CDM has drawn a lot of criticism and even controversies: unproven GHGE reduction, weak transfer of clean technologies, uneven geographical and sectoral distribution of projects, lack of sustainable development that CDM projects are expected to generate in developing countries, etc. This paper identifies and assesses these criticisms, using two newsletters reporting on the implementation of CDM projects in the world (Nouvelles Francophones du marché du carbone et du MDP, and Moniteur du MDP et de la Mise en Œuvre Conjointe). Criticisms identified and assessed were confronted with expert opinions of two International Non Governmental Organisations (INGO) specialised on the monitoring of the CDM implementation: CDM Watch and NOE 21. Interviews with managers of these INGO have permitted to evaluate the relevance of criticisms and the purpose and scope of the CDM. The results of this study raise questions about the effectiveness and the efficiency of the CDM, and about reforms proposed to ensure a better contribution of this mechanism to efforts to reduce GHGE.
Institué par le protocole de Kyoto, le Mécanisme pour un Développement Propre (MDP) permet aux pays développés de remplir une partie de leurs engagements de réduction de leurs émissions de gaz à effet de serre (EGES) dans le cadre de projets réalisés dans des pays en développement. De la sorte, les pays développés peuvent être crédités d'EGES correspondant au volume évité ou réduit dans des pays en développement, et les pays en développement peuvent se targuer de se développer " proprement ". L'utilisation du MDP a suscité de nombreuses critiques, voire des controverses : réduction non avérée des EGES, caractère douteux ou insuffisamment " propre " des technologies transférées dans des pays en développement, inégale répartition géographique et sectorielle des projets, faiblesse ou absence de développement durable que les projets MDP sont censés entraîner dans les pays en développement, etc. Cet article propose un inventaire et une évaluation de ces critiques, à partir du dépouillement et de l'analyse de deux bulletins d'informations rendant compte de la mise en œuvre des projets MDP dans le monde (Nouvelles Francophones du marché du carbone et du MDP, et Moniteur du MDP et de la Mise en Œuvre Conjointe). Les critiques inventoriées et évaluées ont été confrontées aux expertises faites sur le MDP par deux Organisations Non Gouvernementale Internationales (ONGI) spécialisées dans le suivi du MDP : CDM Watch et NOE 21. Les entretiens menés avec les responsables de ces ONGI ont permis d'évaluer la pertinence des critiques dont le MDP est l'objet, ainsi que la portée de ce mécanisme. Les résultats de cette étude amènent à s'interroger sur l'efficacité réelle du MDP et sur les reformes envisagées dans le but de faire en sorte qu'il contribue davantage aux efforts de réduction des EGES.
Fichier principal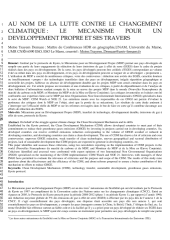 finale_article_Tsayem_MDP_Vertigo_doc.pdf (513.28 Ko)
Télécharger le fichier
Origin : Publisher files allowed on an open archive