Quelles mobilités en milieu rural à faible densité ?
Three factors are likely to change daily mobilities in sparsely populated rural areas and diminish the attractiveness of such areas: fuels cost increase; sustainable development necessities which aim at reducing fossil energies dependence; public policies (Grenelle II) in favor of the development of areas best-served by public transport. Then, how could everyone be guaranteed rights to the mobility and the territory wherever they are? How could we develop mobilities which are more sustainable and less car dependent in areas where car is currently the main mean of transport? The laboratory CNRS-CITERES of Tours University tried to provide answers to this last question as part of the research program MOUR (MObilité et Urbanisme Rural). This program is co-funded by the Région Centre and the Regional Natural Park "Loire-Anjou-Touraine", in partnership with ADEME.
Trois phénomènes risquent de modifier les conditions de mobilité quotidienne dans les espaces ruraux de faible densité, et de limiter l'attractivité de ces territoires : l'augmentation du coût des carburants ; les impératifs de développement durable qui cherchent à réduire la dépendance aux énergies fossiles ; et des politiques publiques (Grenelle II) qui favorisent le développement des seuls espaces desservis par des transports en commun. Comment alors garantir un droit à la mobilité et un droit au territoire partout et pour tous ? La question posée est celle du développement de mobilités plus durables et moins dépendantes de la voiture, dans des espaces aujourd'hui dépendants à l'automobile. C'est cette question qui a été analysée au cours du programme de recherche MOUR (MObilité et Urbanisme Rural), mené par le laboratoire CNRS-CITERES de l'université de Tours en partenariat Parc naturel régional Loire-Anjou-Touraine ; développé dans le cadre de l'Appel à Projet de Recherche d'Intérêt Régional de la Région Centre, ce projet est cofinancé par la Région Centre et l'ADEME.
Fichier principal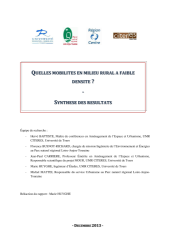 synthA_se_-_Quelles_mobilitA_s_en_milieu_rural_A_faible_densitA_.pdf (182.37 Ko)
Télécharger le fichier
Origin : Files produced by the author(s)