Comment êtes-vous entré(e) dans votre entreprise ? Les enseignements des enquêtes Emploi 2003-2011
This paper deals with the first interactions between employers and job-seekers on the labour market, relying on the INSEE's French labour force surveys from 2003 to 2011. Five channels are distinguished: direct applications, social networks (word of mouth), public agencies, job advertisements and re-hires. As respondents were interviewed for six consecutive semesters, information about job-finding channel in period t could be compared to information about job-search channels in period t-1. This allows us to distinguish between the "activation's logic" of a channel (which profiles of applicants have searched through a given channel) and the "selection's logic" (which profiles are over or under represented among people who have searched and found a job through a given channel). For example, women are less likely than men to find their job via social networks because they are less likely to search via this route (activation's logic). By contrast, young people are used to reading job adverts more often than the others but they are less likely to find their job via this channel (selection's logic). In addition, the regional rate of unemployment impacts the way employers and job-seekers first interact. Direct job finding channels like direct applications and re-hires are correlated with increasing rate of unemployment while the presence of a matchmaker is associated with lower rate.
Ce document présente une exploitation originale des enquêtes Emploi en panel de 2003 à 2011 (Insee), analysant les mises en relation sur le marché du travail via cinq principaux canaux : les candidatures spontanées, les réseaux de relations, les intermédiaires publics, les annonces et les réembauches. Les individus étant interrogés six semestres de suite, on peut rapprocher des informations disponibles à deux dates différentes : en t, comment l'individu est entré dans son entreprise actuelle ; et en t-1, quelles étaient ses méthodes de recherche. Notre démarche permet de distinguer la logique d'activation d'un canal donné par les candidats (quels profils de candidats mobilisent tel canal) de la logique de sélection des candidats par ce canal (parmi ceux qui ont mobilisé le canal, quels profils sont sur ou sous représentés parmi ceux qui accèdent ainsi à un emploi). Il apparaît, par exemple, que si les femmes trouvent moins par relations, c'est plutôt parce qu'elles activent moins leur réseaux (logique d'activation). En revanche, les jeunes de 15 à 29 ans consultent plus les annonces que leurs aînés, mais ce sont les individus d'âges médians qui trouvent davantage par ce canal (logique de sélection). En outre, le taux de chômage régional trimestriel a un effet sur le type de mise en relation entre employeurs et candidats. Les canaux sans intermédiation (candidatures spontanées et réembauches) sont corrélés avec un taux de chômage croissant, tandis que la présence d'un intermédiaire est associée à une conjoncture plutôt favorable.
Fichier principal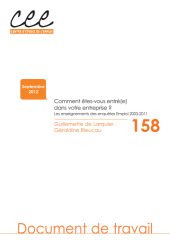 158-entreprise-enseignements-enquete-emploi-2003-2011.pdf (408.88 Ko)
Télécharger le fichier
Origin : Publisher files allowed on an open archive