Product market regulation, innovation and productivity
Several recent policy and academic contributions consider that liberalising product markets would foster innovation and growth. This paper analyses the innovation-productivity relationship at the industry-level for a sample of OECD manufacturing industries. We pay particular attention to the vertically-induced influence of product market regulation (PMR) of key input sectors of the economy on the innovative process of manufacturing and its consequences on productivity. We test for a differentiated effect of this type of PMR depending on whether countries are technological leaders or laggards in a given industry and for a given time period. Contrary to the most widespread policy claims, the innovation-boosting effects of liberalisation policies at the leading edge are systematically not supported by the data. These findings question the relevance of a research and innovation policy based on liberalisation.
Plusieurs contributions récentes à la littérature académique et aux débats de politique économique considèrent que la libéralisation des marchés de biens et services favoriserait la productivité et la croissance. Ce papier analyse la relation entre innovation et productivité au niveau des branches pour un échantillon de pays de l'OCDE. Nous nous concentrons sur l'influence verticale de la réglementation de marchés de biens et services dans certains secteurs d'inputs clés sur l'innovation et la productivité des secteurs manufacturiers. Nous testons un effet différencié de la réglementation dans ces secteurs clés suivant que les pays sont des leaders ou des suiveurs technologiques dans un secteur donné pour une année donnée. Contrairement aux prescriptions de politique économique les plus répandues, les résultats empiriques ne valident en aucun cas l'existence d'effets pro-innovation des politiques de libéralisation pour les leaders technologiques. Ces résultats remettent en question la pertinence d'une politique de recherche et d'innovation fondée sur la libéralisation.
Fichier principal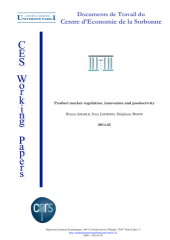 14025.pdf (406.89 Ko)
Télécharger le fichier
Origin : Files produced by the author(s)