L'économie sociale et solidaire : identité, dynamique et enjeux de l'observation.
Social economy (non profit sector, co-operative and mutual organisations) represents 10% of the economy in France. It is a specific model of company gouvernance. It can considerably contribute to a more sustainable development. But the contribution of this kind of economy strongly depends on its ability to grow on in the social and political dialog, as well as on its ability to back its own development. It mainly consists in the production of a socio-economic information / data that would integrate a wider range of criteria than the classical ones. This information would also be used as a tool to rally for the projects.
L'ESS représente 10% de l'économie, et un modèle de gouvernance d'entreprise spécifique. Elle peut apporter une contribution essentielle au développement durable. Mais cet apport est tributaire de sa capacité à s'imposer dans le dialogue social et politique, et de soutenir son propre développement. Cela dépend, notamment, de la production d'une information socioéconomique qui prenne en compte des critères plus variés que les indicateurs classiques, et qui soit également un outil de mobilisation autour des projets.
Fichier principal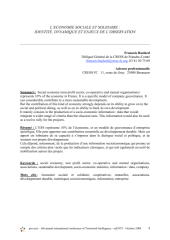 INTI-2008-Besancon-Baulard.pdf (130.91 Ko)
Télécharger le fichier
Origin : Files produced by the author(s)