The Hyperscape project (2): Participative Game Informational Construction
This paper develops Hyperscape participative game theoretical and methodological assumptions. As an hyper-structural ambient-dimensioned interaction system, Hyperscape constitutes a systemic way for territorial acknowledgement. An illustration of this principle presents a sound multisource analysis of soundscape from Malakoff, a district in Nantes, with using the sound athmosphere generator. Manipulation of this hypertool should provide information to evaluate sound interaction through Zipf law entropy dimensioning.
Cet article présente les bases théoriques et méthodologiques du jeu participatif Hyperscape. Ce système de dimensionnement des interactions ambiantales vise une prise de connaissance territoriale par une méthode issue de la systémique. Pour illustrer ce principe, nous présentons une analyse multisource du paysage sonore de Malakoff (Nantes, France) en utilisant le générateur d'ambiances. Cet outil nous fournira les informations pour l'évaluation des interactions sonores par le dimensionnement de leur entropie via la loi de Zipf.
Fichier principal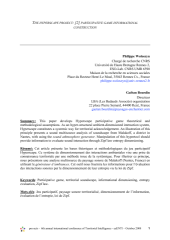 INTI-2008-Besancon-Woloszyn.pdf (487.56 Ko)
Télécharger le fichier
Origin : Files produced by the author(s)