Territorial intelligence is also networking! Which strategies could be adopted to create a learning community regarding a public place?
Although tools and methods are of major importance for territorial intelligence, each action research begins with the creation of a network of actors and researchers. How to do this? Which strategies are the most efficient and ethically acceptable? The paper analyses how stakeholders of a public place were joined to work together on a new approach of management and use of a certain public place. It compares the different networking strategies used in the five case studies of the Topozym action research.
Bien que les outils et méthodes soient une chose importante dans l'intelligence territoriale, chaque recherche action commence par la constitution d'un réseau d'acteurs et de chercheurs. Comment s'y prendre ? Quelles stratégies sont les plus efficaces et les plus étiques ? La communication analyse la façon dont les parties prenantes d'un lieu public ont été réunis pour travailler ensemble à une nouvelle approche de la gestion et de l'usage d'un lieu public. Il compare les différentes stratégies de constitution du réseau utilisé dans les cinq accompagnements de la recherche action Topozym.
Fichier principal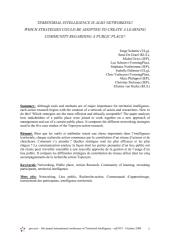 INTI-2008-Besancon-Schmitz.pdf (109.87 Ko)
Télécharger le fichier
Origin : Files produced by the author(s)