New "pays" (little countries) as local level of the process of Territorial Intelligence in France? Comparative study of the Pays Basque and the Couserans.
The laws of 1995 and 1999 on planning and development of territory, extended in 2003, allowed the assertion of the "pays" (local countries) which constitute territories having a geographical, cultural, economic and social cohesion carrying joint projects (territories of projects). They met certain success. On January 1st, 2007 France counted 334 recognized "pays". The "pays" are in the heart of the policies of sustainable development of the territory. However, this common denomination hides realities very different, so much on the level of the political situations, cultural, economic and social and on the level of the projects of territory which approach varied fields. They have different competences, various resources and very different budgets. The examples of the Pays Basque in Aquitaine and Couserans in the Midi-Pyrénées region offer significant illustration. These two examples are used to analyze the "pays" within a process of Proximity Territorial Intelligence centred on the identity, the construction of the convergence of the actors' representations, the social networks, the projects culture within the framework of the new uses of ICT and the economy of the immaterial.
Les lois de 1995 et 1999 sur l'aménagement et le développement du territoire, étendues en 2003, ont permis l'apparition des " pays " qui constituent des territoires présentant une cohésion géographique, culturelle, économique et sociale tout en étant porteurs de projets communs (territoires de projets). Ils ont connu un certain succès puisqu'au 1er janvier 2007 la France comptait 334 " pays " reconnus. Les " pays " se trouvent désormais au coeur des démarches d'aménagement et de développement durable du territoire. Pourtant, cette dénomination commune cache des réalités très différentes, tant au niveau des situations politiques, culturelles, économiques et sociales qu'au niveau des projets de territoire qui abordent des domaines variés, disposent de compétences, de ressources très différentes et de budgets qui n'ont pas de commune mesure les uns avec les autres. Les exemples du Pays Basque en Aquitaine et du Couserans en Midi-Pyrénées en offrent une parfaite illustration. Ces deux exemples nous servent à situer les pays au sein d'un processus d'Intelligence Territoriale de proximité centrée sur l'identité, la construction de la convergence des représentations des acteurs, les réseaux sociaux, les cultures à projet dans le cadre des nouveaux usages des TIC et de l'économie de l'immatériel.
Fichier principal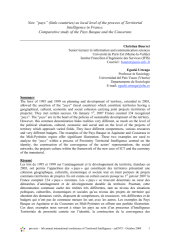 INTI-2008-Besancon-Bourret.pdf (169.17 Ko)
Télécharger le fichier
Origin : Files produced by the author(s)