Le ciblage comportemental, une perte de contrôle des éditeurs sur les données de l'audience
Monitoring and profiling of Internet users is an issue of first order for professionals in the advertising industry. This article highlights how innovation like behavioral targeting helps transform the operating logic of Internet advertising. It has not operated this change alone.. Rather, it is the combination of the availability of new technologies, driven by technological firms that has, at some point, met the needs of advertisers and helped to redefine them. The use of the Internet user's navigational data is a prerequisite to targeting.
El seguimiento y el análisis de los cibernautas constituye una cuestión de primer orden para los profesionales de la industria de la publicidad. Este artículo muestra la manera por la cual la innovación que ofrece el behaviorial targeting contribuye a transformar la lógica de funcionamiento de la actividad publicitaria. No obstante, esta innovación, por sí sola, no ha originado los cambios; más bien ha sido la disponibilidad de nuevas tecnologías, quienes, impulsadas por empresas que ofrecen soluciones tecnológicas, han buscado solucionar, en un determinado momento, las necesidades de los anunciantes, a la vez que dichas necesidades han sido redefinirlas. En este sentido, la explotación de los datos de navegación de los internautas es una condición básica para el citado behaviorial targeting.
Le suivi et le profilage des internautes est un enjeu de premier ordre pour les professionnels de l'industrie publicitaire. Cet article met en évidence la manière dont l'innovation constituée par le ciblage comportemental participe à transformer la logique de fonctionnement de l'activité publicitaire. Le ciblage comportemental seul n'a pas changé cette logique. Il s'agit plutôt de la conjonction de la disponibilité de nouvelles technologies, portées par des entreprises de solutions technologiques qui ont, à un moment donné, rencontré les besoins des annonceurs et contribué à les redéfinir. L'exploitation des données de navigation des internautes est une condition première à ce ciblage.
Fichier principal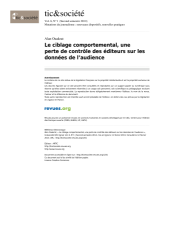 ticetsociete-1251-vol-6-n-1-le-ciblage-comportemental-une-perte-de-controle-des-editeurs-sur-les-donnees-de-l-audience.pdf (296.64 Ko)
Télécharger le fichier
Origin : Publisher files allowed on an open archive