Imagining Augustine's two Cities
Mettre en image les deux cités augustiniennes
Rappresentare le due città di Agostino
This article points out the rhetorical dimension of the two cities defined by S. Augustine, the civitas Dei and the civitas terrena (or diaboli) ; then it considers the different treatments of such a dimension in the verbal and in the visual code. In order to deepen this semiotic comparison the author examines a wellknown illuminated manuscript of the De civitate Dei (Plut. 12.17; Canterbury ? 1120-1130). In keeping with the Augustinian treatise as well as with its medieval reception, the article offers a new and original insight of the four depicted folios, which open this manuscript.
Cet article souligne l'efficacité rhétorique inhérente aux deux cités augustiniennes, la civitas Dei et la civitas terrena (ou diaboli). Il est question ensuite de différents traitements de cette dimension dans le code respectivement verbal et visuel. Pour approfondir cette comparaison sémiotique, l'auteur prend en compte un manuscrit enluminé du De civitate Dei bien connu (Plut. 12.17 ; Canterbury ? 1120-1130). En examinant le traité augustinien non moins que sa réception médiévale, l'article offre un regard nouveau et original sur les quatre enluminures (pleine page), qui ouvrent ce manuscrit.
Quest'articolo sottolinea l'efficacia retorica delle due città agostiniane, civitas dei e terrena (o diaboli), per poi esaminare il suo diveso trattamento in sede verbale sia in sede figurativa. Per approfondire questo paragone semiotico, l'autore prende come esempio un celebre manoscritto miniato de De civitate Dei (Plut. 12.17 ; Canterbury ? 1120-1130). In accordo tanto con il trattato agostiniano quanto con la sua ricezione medievale, l'articolo offre nuova e originale interpretazione delle quattro tavole miniate che aprono questo manoscritto.
Fichier principal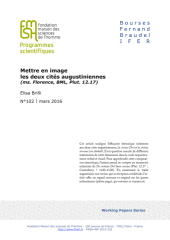 FMSH-WP-2015-102 Brilli.pdf (3.26 Mo)
Télécharger le fichier
Origin : Files produced by the author(s)