Ce que le vote par approbation révèle des préférences des électeurs français
The purpose of this article is to determine a distribution along a political axis of the candidates for the 2012 French presidential election on the basis of the opinions of voters, rather than on a priori ideological positions. To do so, experimental data from a voting experiment on approval voting are used. The obtained endogenous axis representative of the political landscape corresponds to a fairly standard left-right axis. However, a more precise analysis of the behavior of voters questions the unimodality assumption of political preferences usually associated with this structure. Voters often simultaneously approve candidates on both sides of the political spectrum but without supporting intermediary candidates on the axis; besides, this attitude is more common among men than women.
Cet article vise à déterminer une répartition, le long d'un axe politique, des candidats à l'élection présidentielle de 2012 qui soit fondée sur les opinions exprimées par les électeurs à travers une expérimentation de vote par approbation, plutôt que sur un positionnement a priori. L'axe endogène représentatif du paysage politique obtenu s'avère correspondre à un axe gauche-droite classique. Cependant, des analyses plus précises du comportement des électeurs remettent en cause l'hypothèse d'unimodalité des préférences politiques qui est généralement associée à cette structure. En particulier, l'attitude qui consiste à approuver simultanément des candidats situés des deux côtés de l'échiquier politique mais sans soutenir les candidats intermédiaires sur l'axe est largement répandue, et nettement plus fréquente chez les hommes que chez les femmes.
Fichier principal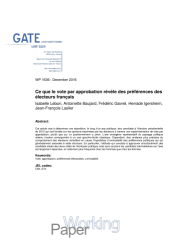 1636.pdf (480.76 Ko)
Télécharger le fichier
Origin : Files produced by the author(s)