Curt Sachs and his Contribution to the Museology of Music
Curt Sachs is a constant reference for organologists and musicologists. But he is also a pioneer, often forgotten, in musical museology. In September 1933 he was forced to leave Berlin. He was then welcomed at the Musée d'Ethnographie in Paris to "collaborate in the classification of instruments with André Schaeffner". He remained there until his departure for New York in July 1937. During these four years Sachs prepared an exhibition on the history of dance; he translated his book Welgeschichte des Tanzes into French, he wrote a book on the instruments of Madagascar (1938), and he published in the ICOM journal, Museion, "Relevance, Function, and Museographic Tasks and Techniques of Musical Instruments Collections". Our contribution underlines that this "manifesto", devoted to the missions of museums of instruments and to the ethics of restoration, proposes principles for a museographic program, even in its technical aspects. Sachs' philosophy takes account of the visible and the audible of musical objects and he builds a theory that inspire us at a time when so many museums have evolved their museographic concepts. Many of these proposals go beyond an aesthetic concept of Western music, reflecting the concerns of a universalist musicologist with prospective views at a crucial moment in the development of musical museology.
Référence constante pour les organologues et les musicologues, Curt Sachs est aussi un pionnier, souvent oublié, en muséologie musicale. En septembre 1933, il est contraint de quitter Berlin. Il est alors accueilli au Musée d'Ethnographie à Paris pour "collaborer à la classification des instruments avec André Schaeffner". Il y resta jusqu'à son départ pour New York en juillet 1937. Sachs prépara pendant ces quatre années une exposition sur l'histoire de la danse ; il traduisit en français son ouvrage Welgeschichte des Tanzes, écrivit un livre sur les instruments de Madagascar (1938) et publia dans la revue de l'ICOM, Museion, « La signification, la tâche et la technique muséographique des collections d'instruments de musique ». Notre contribution souligne que ce véritable manifeste, consacré aux missions des musées d'instruments et à la déontologie de la restauration, propose des principes pour un programme muséographique jusque dans ses aspects techniques. Nous y montrons comment la philosophie de Sachs tient compte du visible et de l'audible et construit une théorie de l'objet musical qui peut toujours nous inspirer. Beaucoup de ces propositions dépassent un concept esthétique de la musique occidentale, reflétant les préoccupations d'un musicologue universaliste aux vues prospectives à un moment crucial de développement de la muséologie musicale.
Fichier principal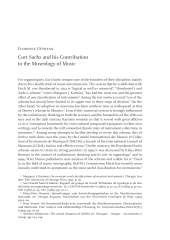 017 Gétreau_Sachs_VomSammeln,KlassifizierenUndInterpretieren Sachs.pdf (259.64 Ko)
Télécharger le fichier
Origin : Publisher files allowed on an open archive