Should I Trust My Gut Feelings or Keep Them at a Distance: A Prospective Analysis of Point-of-Care Diagnostics Practice
Point-of-care devices can be expected to change current medical practices, create new ones and raise crucial questions concerning responsibilities in healthcare. In this paper we explore the issue of point-of-care devices and trust. More specifically, we draw attention on a dimension of 'trust' which is closely related to point of care devices, namely the potential tension in future users of emerging point-of- care devices between trusting their experience of a symptom and trusting the technology. We will take a case study approach in which we focus our attention on an emerging case of point-of-care diagnostics: the Nanopil. After introducing this case, we introduce the concept of mediation, as elaborated by Verbeek on the basis of Ihde and Latour's work. This concept provides a good analytical tool to address the question of how a point of care diagnostics, like the Nanopil, creates new meanings and practices. Our analysis shows how the Nanopil is a hybrid of proximity and detachment from the user. We conclude with some final considerations explaining why this type of analysis of such a close-and-yet-distant relationship with the user is important in the innovation process.
Les technologies de soins sur le lieu d'intervention (point-of-care devices) sont susceptibles de modifier les pratiques médicales actuelles, d'en créer de nouvelles et de soulever des questions cruciales concernant les responsabilités dans les services de santé. Dans ce chapitre, nous explorons les technologies de soins délocalisés (point-of- care devices), et ce au prisme des questions de confiance. Plus précisément, nous attirons l'attention sur une dimension de la « confiance » qui est étroitement liée aux technologies de soins délocalisés, à savoir la tension potentielle pour les futurs utilisateurs de telles technologies entre faire confiance à leur expérience corporelle (de certains symptômes) et faire confiance à la technologie. Nous appuyons nos réflexions sur l'étude d'une technologie de soins émergente : la Nanopil (nanopilule). Après avoir présenté cette technologie, nous introduisons le concept de médiation, tel qu'il a été élaboré par Verbeek à partir des travaux d'Ihde et Latour. Ce concept constitue un outil prometteur pour interroger les nouvelles pratiques et les nouvelles significations engendrées par les technologies de soins délocalisés telles que la Nanopil. Notre analyse montre comment la Nanopil est un hybride de proximité et de détachement pour l'utilisateur. Nous concluons avec quelques réflexions finales sur l'importance de ce type d'analyses qui mettent en lumière les relations à la fois proches et distantes entre utilisateurs et technologies pour le processus d'innovation.
Fichier principal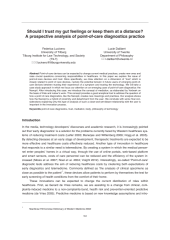 Lucivero_Dalibert 2013_Should I trust my gut feelings_Final copy.pdf (178.3 Ko)
Télécharger le fichier
Origin : Files produced by the author(s)