Si manus tua scandalizat te, amputa ! L'exégèse de Mt 18, 7-9 dans le Sermo 81 d'Augustin d'Hippone
The exegesis of Mt. 18,7-9 in the Sermo 81 shows the choices of the preacher. First, Augustine refuses the literal interpretation of these verses and prefers the allegorical interpretation, as the other Fathers. These interpretations consider the parts of the body either as a picture of the soul (according to the theory of the "spiritual senses"), or of the human family or else of the Church (cf. 1 Cor. 12,25-27). Because of the Donatist controversy, Augustine mentions these ecclesial interpretations with caution and originality. Second, in the dark period of the Sack of Rome (410), the needs of the listeners transform the exegesis of the preacher (cf. É. Rebillard, In hora mortis, Rome 1994) and the definition of scandal.
L'exégèse de Mt 18, 7-9 que déploie le Sermon 81 présente un double intérêt : refusant une lecture littérale, elle rejoint l'interprétation allégorique courante chez les Pères qui fait des parties du corps une image de l'âme (théorie des "sens spirituels"), de la famille humaine ou de l'Église (cf. 1 Co 12, 25-27). Le contexte donatiste a cependant conduit Augustin à user avec prudence et originalité de l'interprétation ecclésiale ; dans le contexte historique troublé par le sac de Rome, les attentes des auditeurs ont aussi transformé l'exégèse du prédicateur (comme E. REBILLARD l'a montré à propos de la pastorale de la mort, cf. In Hora mortis, Rome 1994), et ce, via une redéfinition de la notion de scandale.
Fichier principal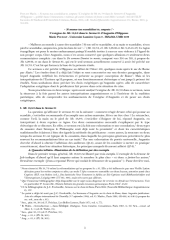 PAULIAT Marie_Si manus tua scandalizat te.pdf (286.25 Ko)
Télécharger le fichier
Origin : Files produced by the author(s)