Quel type de communauté forment les auteurs francophones en Systèmes d'Informations? Une analyse du réseau social
This article presents a social network analysis of the french-speaking community of co-authors of scientific publications in Information Systems based on articles' co-authorship. The articles are separated in two different sets. The first set includes the articles published in "Systèmes d'Information et Management" (SIM) the reference journal in information systems for the French community. The second set gathers the articles published in a range of english-writing journals from the JCR database. Comparisons between the two networks are made, their integration is performed and a final assessment is perfomed. It emerges that Daniel Pascot and Louis Raymond are the center of the SIM network. Henri Barki Alain Pinsonneault are central to the JCR network and to the network emerging from the combination of SIM and JCR networks. The SIM network is less centralized and Quebec seems likely a great place to be part of the french-speaking community in Information Systems.
Cet article présente une analyse du réseau social de la communauté francophone de co-auteurs de publications scientifiques en Systèmes d'Information basée sur les relations de co-écriture d'articles. Les articles sont séparés entre ceux publiés dans « Systèmes d'Information et Management », la revue de référence francophone concernant les systèmes d'information et ceux publiés dans un panel de revues en anglais à partir de la base JCR. Des comparaisons entre les deux réseaux sont réalisées, leur intégration est opérée et une réflexion est faite. Il émerge que Daniel Pascot et Louis Raymond sont au centre du réseau SIM. Quant à Henri Barki et Alain Pinsonneault, ils sont au centre du réseau JCR et du réseau émergent de la combinaison du réseau SIM et JCR. Le réseau SIM est moins centralisé et le Québec apparaît comme un lieu privilégié pour s'inscrire dans la communauté francophone en SI.
Fichier principal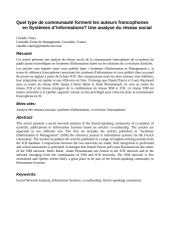 Vitari 2013Pre-ICIS Quel type de communauté forment les auteurs francophones en SI.pdf (634.08 Ko)
Télécharger le fichier
Origin : Files produced by the author(s)