Toward a Brand Communication dictated by algorithms ?
Vers une communication de marque dictée par les algorithmes ? Les relations publiques 2.0 face aux Big Data
This article describes the coexistence of two forms of use of social web platforms by organizations. While organizations initially considered their branded pages and accounts on Facebook and Twitter as owned media that provide them with an earned exposure through the actions of Internet users, the algorithmic transformation initiated by those platforms leads to the need to resort increasingly to paid publications. As a result, the strategic presence inspired by public relations gives way to a tactical approach related to advertising and direct marketing, raising ethical issues about the exploitation of users' data.
L'article décrit la manière dont cohabitent deux formes d'utilisation des plateformes du web social par les organisations. Alors que les espaces de marque sur Facebook et Twitter sont considérés dans un premier temps comme des espaces possédés (owned media) fournissant aux organisations une exposition « gagnée » (earned) grâce aux actions des internautes, la mue algorithmique amorcée par les plateformes entraîne la nécessité de recourir toujours plus à des formats de publication payants (paid). En conséquence, la présence stratégique inspirée des relations publiques cède le pas à une démarche tactique relevant de la publicité et du marketing direct, qui soulève des questions éthiques relatives à l'exploitation des données des internautes.
Fichier principal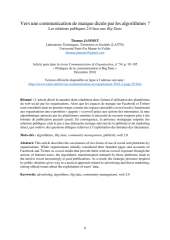 Jammet_Com & Org 2018_Communication dictée par les algorithmes.pdf (251.32 Ko)
Télécharger le fichier
Origin : Files produced by the author(s)