La geste d''Ibn Zâ'id ou la sagesse de l'honneur.
The peasants of North Yemen tell the adventures of a mythical hero, 'Alî Ibn Zâyed, who embodies the values and the wittiness of the Highlands Zaydite villagers. Drawn from the "experiences" (tajârib) of his legendary life, these tales teach a practical wisdom based on popular astronomy, observation of nature, agricultural knowledge and the ideal of Arab honour. Orally transmitted under the form of proverbs, calendars, work songs and tales, this figure of a trickster or a "yemenite Hesiod" contributes to the construction of a complex identity, both earthly and tribal, Islamic and pre-Islamic.
On raconte dans les villages du Yémen du Nord les aventures d'un héros mythique, 'Alî Ibn Zâyed, qui incarne l'astuce et les valeurs des paysans zaydites des Hauts-Plateaux. L'expérience d'Ibn Zâ'id, tirée des « épreuves » (tajârib) de sa biographie légendaire, enseigne une sagesse pratique basée sur l'astronomie populaire, l'observation de la nature, les savoirs agricoles et l'idéal de l'honneur arabe. Transmise oralement, sous forme de calendriers, de proverbes, de chants de travail et de contes, cette figure d' « Hésiode yéménite » contribue à la construction d'une identité sudarabique moderne complexe, à la fois terrienne et tribale, islamique et pré-islamique.
Fichier principal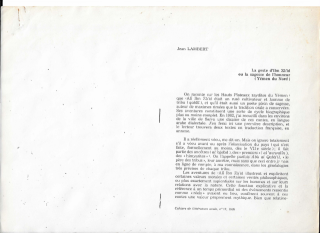 ABZ.pdf (17.94 Mo)
Télécharger le fichier
Origin : Explicit agreement for this submission