Decomposition of games: some strategic considerations
Candogan et al. (2011) provide an orthogonal direct-sum decomposition of finite games into potential, harmonic and non-strategic components. In this paper we study the issue of decomposing games that are strategically equivalent from a game-theoretical point of view, for instance games obtained via duplications of strategies or suitable linear transformations of payoffs. We consider classes of decompositions and show when two decompositions of equivalent games are coherent.
Candogan et al. (2011) a introduit une décomposition en somme orthogonale des jeux finis en trois composantes : potentielle, harmonique et non stratégique. Dans cet article, nous étudions la question de la décomposition de jeux qui sont stratégiquement équivalents, par exemple obtenus par duplication des stratégies ou par certaines transformations linéaires des paiements. Nous considérons une famille de décompositions et montrons à quelles conditions deux décompositions de jeux équivalents sont cohérentes.
Fichier principal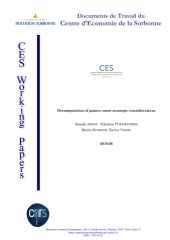 19006.pdf (614.33 Ko)
Télécharger le fichier
Origin : Files produced by the author(s)