Les modalités iconiques dans le discours médié par ordinateur: du neuf dans l'interaction?
Graphic modalities (emoticons, emoji, GIF…) are often presented as one of the distinctive features of computer-mediated interaction. In what may be the first reference book on computer-mediated communication (also known as CMC), American linguist Susan C. Herring goes as far as calling them a "unique feature" of digital interaction (Herring 1996, 3). Since then, many linguists have tempered this view and shown that graphic modalities are by no means specific to CMC. However, they remain one of its salient features. Are they, then, to be considered as an evolution or a revolution in interaction? The real question is indeed what they bring to computer-mediated communication, and their status in interaction. How do those modalities, which are normally attached to non-verbal communication, interact with verbal modalities? Do they sometimes replace them? What is their place and use in interaction? Those questions are the ones this article intends to explore using the tools of discourse analysis, particularly computer-mediated discourse analysis, applied to a dataset composed of interactions on Facebook.
Les modalités iconiques, c'est-à-dire les images utilisées comme moyen d'expression (émoticônes, émojis, gifs...), sont souvent présentées comme un des traits caractéristiques de l'interaction médiée par ordinateur. La linguiste américaine Susan C. Herring fait même de leur utilisation un des « traits uniques » (« unique feature », Herring 1996, 3) de l'interaction virtuelle dans son premier ouvrage de référence sur la communication médiée par ordinateur ou CMO. Si cette idée d'exclusivité a depuis été fortement nuancée, il demeure qu'elles sont une des caractéristiques saillantes du discours médié par ordinateur. Sont-elles alors une évolution ou une révolution dans l'interaction, particulièrement écrite ? Pour répondre à cette question, on tentera de déterminer ce que le recours aux modalités iconiques apporte à l'interaction en ligne. On s'interrogera donc sur leurs fonctions, leur place et leur statut dans l'interaction. On s'arrêtera particulièrement sur les rapports qu'entretiennent ces modalités d'ordinaire considérées comme non-verbales avec le matériau verbal (lexical et morpho-syntaxique) du discours. Pour cela, cet article utilisera les outils de l'analyse du discours, et plus particulièrement de l'analyse du discours médié par ordinateur initiée par Susan C. Herring, pour analyser un corpus d'interactions prélevé dans des commentaires postés sur le réseau social Facebook.
Fichier principal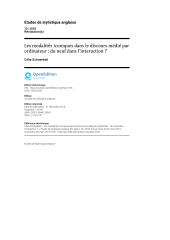 esa-3126.pdf (638.36 Ko)
Télécharger le fichier
Origin : Publisher files allowed on an open archive