Diffusion in countably infinite networks
We investigate the phenomenon of diffusion in a countably infinite society of individuals interacting with their neighbors. At a given time, each individual is either active (i.e., has the status or opinion 1) or inactive (i.e., has the status or opinion 0). The configuration of the society describes active and inactive individuals. The diffusion mechanism is based on an aggregation function, which leads to a Markov process with an uncountable set of states, requiring the involvement of σ-fields. We focus on two types of aggregation functions - strict, and Boolean. We determine absorbing, transient and irreducible sets under strict aggregation functions. We show that segregation of the society cannot happen and its state evolves towards a mixture of infinitely many active and infinitely many inactive agents. In our analysis, we mainly focus on the network structure. We distinguish networks with a blinker (periodic class of period 2) and those without. ø-irreducibility is obtained at the price of a richness assumption of the network, meaning that it should contain infinitely many complex stars and have enough space for storing local configurations. When considering Boolean aggregation functions, the diffusion process becomes deterministic and the contagion model of Morris (2000) can be seen as a particular case of our framework with aggregation functions. In this case, consensus and non trivial absorbing states as well as cycles can exist.
Nous étudions le phénomène de diffusion dans une société infinie dénombrable d'individus en interaction avec leurs voisins. A un moment donné, chaque individu est soit actif (c'est-à-dire a le statut ou l'opinion 1), soit inactif (c'est-à-dire a le statut ou l'opinion 0). La configuration de la société décrit les individus actifs et inactifs. Le mécanisme de diffusion est basé sur une fonction d'agrégation, qui conduit à un processus de Markov avec un ensemble indénombrable d'états nécessitant l'implication de σ-algèbres. Nous nous concentrons sur deux types de fonctions d'agrégation : stricte et booléenne. Nous déterminons des ensembles absorbants, transitoires et irréductibles dans le cadre de fonctions d'agrégation strictes. Nous montrons que la ségrégation de la société ne peut pas se produire et que son état évolue vers un mélange d'un nombre infini d'agents actifs et d'un nombre infini d'agents inactifs. Dans notre analyse, nous nous concentrons principalement sur la structure du réseau. Nous distinguons les réseaux avec un clignotant (classe périodique de période 2) et ceux sans clignotant. La ø-irréductibilité est obtenue au prix d'une hypothèse de richesse du réseau, ce qui signifie qu'il devrait contenir un nombre infini d'étoiles complexes et disposer de suffisamment d'espace pour stocker les configurations locales. Lorsque l'on considère les fonctions d'agrégation booléennes, le processus de diffusion devient déterministe et le modèle de contagion de Morris (2000) peut être considéré comme un cas particulier de notre cadre avec des fonctions d'agrégation. Dans ce cas, des états absorbants consensuels et non triviaux ainsi que des cycles peuvent exister.
Fichier principal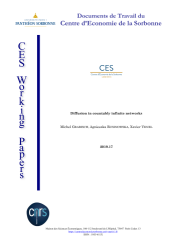 19017.pdf (579.25 Ko)
Télécharger le fichier
Origin : Files produced by the author(s)