A celtic cemetery of La Fosse Cotheret at Roissy (Val-d'Oise) and the aristocratic rituals in the north of the pariser basin at the beginning of the 3rd century BC
Le cimetière celtique de La Fosse Cotheret, à Roissy (Val-d'Oise) et les usages funéraires aristocratiques dans le nord du Bassin parisien à l'aube du IIIe siècle avant J.-C.
Of the 10 burials excavated at the Celtic cemetery of Roissy in 1999, two are chariot burials. The site dates to the early La Tène period (first decades of the 3rd century BC) and belongs to a small group of aristocratic cemeteries of the Plaine de France whose common denominator is the relatively small number of burials with specific rituals that include chariot burials or the deposit of exotic and sump tuous objects. After a brief description of the structures, we will describe the different aspects of these ensembles (the role and the importance of certain individuals warriors or people linked to the sacred sphere). The small number of burials, the quality of certain finds (bronze objects and black varnished pottery) and the rareness or even absence of regional cemeteries dating before and after the Roissy ensemble question the origin of these communities, as well as the cemeteries heuristic value in relation to demographic study and the ethnogenesis of these ancient peoples. One can finally ask if in a specific historical climate, the motivation of the elite of the Plaine de France was to consolidate their territorial authority and their authority over the population by adopting such ostentatious funerary rites.
La nécropole celtique fouillée en 1999 à Roissy a livré une dizaine de sépultures dont deux tombes avec char. Cet ensemble daté de la fin de La Tène ancienne (premières décennies du IIIe s. av. J.-C.) vient compléter la petite série des cimetières aristocratiques de la Plaine de France qui se singularisent par un nombre de sépultures relativement faibles et un rituel spécifique qui inclut dans des cas particuliers le dépôt de véhicules à deux roues ou encore d'objets à caractère exotique ou fastueux. Après une brève description des faits, nous revenons sur les différents aspects qui définissent ces ensembles (le rôle et l'importance de certains individus qu'il s'agisse de guerriers ou personnages liés à la sphère du sacré). Le petit nombre de sépultures, la qualité de certains mobiliers (bronzes plastiques et céramiques à vernis noir) et la rareté voire l'absence de nécropoles régionales pour les périodes plus anciennes et récentes nous conduisent à nous interroger sur l'origine de ces communautés et la valeur heuristique des nécropoles pour l'étude de la démographie et l'ethnogenèse des populations anciennes. On peut enfin se demander si la motivation des élites de la Plaine de France n'était pas d'affermir, dans un contexte historique particulier, leur autorité sur un territoire et la population en privilégiant pour les funérailles un rituel ostentatoire.
Fichier principal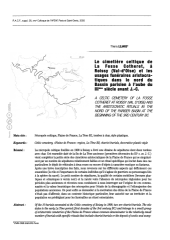 SRACF_26_2005_Lejars_73-83.pdf (5.54 Mo)
Télécharger le fichier
Origin : Publisher files allowed on an open archive