Un discours et un public « Gilets Jaunes » au coeur du Grand Débat National ? Combinaison des approches IA et textométriques pour l'analyse de discours des plateformes « Grand Débat National » et « Vrai débat »
In this contribution, we propose to analyze the statements coming from two "civic tech" platforms-the governmental platform, "Grand Débat National" and, its political and algorithmic response proposed by a Yellow Vest collective, "Vrai Débat"-, by confronting two families of algorithms dedicated to text analysis. We propose to implement, on the one hand, proven approaches in textual data analysis (Reinert/Iramuteq Method) which have recently shown their interest in the analysis of very large corpora and, on the other hand, new methods resulting from the crossroads of the computer worlds, artificial intelligence and automatic language processing. We will examine the methodological solutions for qualifying the social properties of speakers about whom we have little direct information. Finally, we will attempt to present some research questions at the crossroads of the political sociology of public opinion and data science, which such a confrontation opens up.
Dans cette contribution, nous nous proposons d'analyser les énoncés issus de deux plateformes de « civic tech » - plateforme gouvernementale, le « Grand Débat National » et, sa riposte politique et algorithmique proposée par un collectif de Gilets Jaunes, le « Vrai Débat »-, en confrontant deux familles d'algorithmes dédiées à l'analyse de textes. Nous nous proposons de mettre en oeuvre, d'une part, des approches éprouvées en analyses des données textuelles (Méthode Reinert sous Iramuteq) qui ont montré récemment leur intérêt pour l'analyse de très grand corpus et, d'autre part, des méthodes nouvelles issues du croisement des mondes informatiques, de l'intelligence artificielle et du traitement automatique des langues. Nous nous interrogerons en outre sur les solutions méthodologiques permettant de qualifier les propriétés sociales des locuteurs sur lesquelles nous n'avons que peu d'information directe. Enfin, nous tenterons de présenter quelques questions de recherche au croisement de la sociologie politique de l'opinion publique mais aussi des data science, qu'une telle confrontation ouvre.
Fichier principal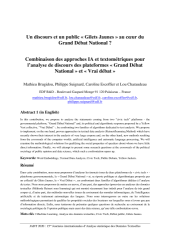 BRUGIDOU_SUIGNARD_ESCOFFIER_CHARAUDEAU_JADT2020.pdf (1008 Ko)
Télécharger le fichier
Origin : Files produced by the author(s)