Nouvelles jeunesses immigrées en France et aux États-Unis
Die Integration der Kinder der Einwanderer wurde lange als Übergang von der Herkunftsgemeinschaft zur Empfangsgesellschaft erlebt und empfunden. Dieses Schema ist aber zu vereinfachend, um die Komplexität der Situationen in der die Jugendlichen der Einwanderung leben und insbesondere diejenigen aus den Südländern, die in benachteiligten Gegenden wohnen, darzustellen. Neue Untersuchungen, die unter anderem in den Vereinigten Staaten durchgeführt wurden, deuten daraufhin, dass es Anpassungsformen gibt, die sich zwar vom traditionnellen Schema entfernen aber auch nicht auf einen einfachen "Gemeinschaftsrückzug" reduzieren.
The integration of immigrant children has for long been experienced and perceived as the pathway from the native community to the host society However, the pattern is too simplistic to give an account of the complex situations native-born children of immigrants are experiencing, in particular for those recently arrived from the Southern countries and living in underpriviledged areas. Recent researches carried out in the United States suggest that some forms of adaptation distant from the traditional model are possible without being confined for all that to a mere "community withdrawal".
La integración de los hijos de inmigrantes fue vivida y percibida mucho tiempo como el paso de la comunidad de origen hacia la sociedad de acogida. Pero este esquema es demasiado simplista para dar buena cuenta de la complejidad de las situaciones que viven actualmente los jóvenes procedentes de la inmigración, especialmente aquellos recientemente llegados de los países del Sur y que residen en barrios desfavorecidos. Unas investigaciones recientes llevadas a cabo especialmente en Estados Unidos sugieren que existen formas de adaptación que difieren del modelo tradicional pero que no se resumen sin embargo a un mero "repliegue comunitario".
L'intégration des enfants de migrants a été longtemps vécue et perçue comme le passage de la communauté d'origine à la société d'accueil. Mais ce schéma est trop simpliste pour rendre compte de la complexité des situations que vivent actuellement les jeunes issus de l'immigration, en particulier ceux nouvellement arrivés des pays du Sud qui habitent les quartiers défavorisés. Des recherches récentes, menées notamment aux États-Unis, suggèrent qu'il existe des formes d'adaptation qui s'éloignent du modèle traditionnel, mais qui ne se réduisent pas pour autant à un simple "repli communautaire".
Fichier principal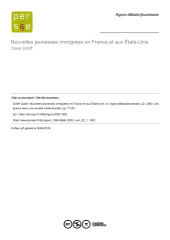 Nouvelles jeunesses immigrées.pdf (492.42 Ko)
Télécharger le fichier
Origin : Explicit agreement for this submission