A Survey on Nonstrategic Models of Opinion Dynamics
The paper presents a survey on selected models of opinion dynamics. Both discrete (more precisely, binary) opinion models as well as continuous opinion models are discussed. We focus on frameworks that assume non-Bayesian updating of opinions. In the survey, a special attention is paid to modeling nonconformity (in particular, anticonformity) behavior. For the case of opinions represented by a binary variable, we recall the threshold model, the voter and q-voter models, the majority rule model, and the aggregation framework. For the case of continuous opinions, we present the DeGroot model and some of its variations, time-varying models, and bounded confidence models.
Le papier présente une sélection de modèles de dynamique d'opinion. Les modèles discrets (plus précisément, binaires) ainsi que les modèles continus sont discutés. Nous nous focalisons sur les modèles qui supposent une mise à jour non-Bayésienne des opinions. Dans ce tour d'horizon, une attention spéciale est dévolue à la modélisation de la non-conformité (en particulier, l'anti-conformisme). Pour le cas des opinions binaires, nous rappelons le modèle à seuil, les modèles du votant et q-votant, le modèle de la majorité ainsi que les modèles d'agrégation. Pour le cas des opinions continues, nous présentons le modèle de DeGroot et quelques une de ses variantes, les modèles dépendant du temps et les modèles à confiance bornée.
Fichier principal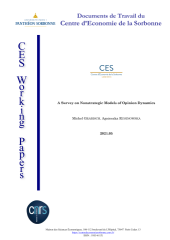 21005.pdf (861.09 Ko)
Télécharger le fichier
Origin : Files produced by the author(s)