Religion and Hegemony in Gramsci' Writings: from the Potestas indirecta Jesuit to the Heresy of the Subalterns
Religion et hégémonie dans les écrits de Gramsci : de la potestas indirecta jésuite à l'hérésie des subalternes
The concept of hegemony, at the heart of Antonio Gramsci's research, is inseparable from a fundamental reflection on religion. Religion in Gramsci sometimes designates historical religions, in particular Catholicism, sometimes a conception of Marxism as the heresy of liberalism resulting from subordinate groups. From his Turin years, Gramsci described socialism as a religious faith replacing the supernatural horizon of Christianity with a concrete and rational project. The rise of fascism forces him to confront more directly Catholic institutions and culture, their function of intellectual and political leadership, especially among the peasant masses. This confrontation prepares the decisive turning point for Gramsci during the Concordat of 1929 between the fascist state and the Catholic Church. Starting then to write his Cahiers de prison, he studies through this politico-religious news the relationship of reciprocal influence between economy, culture and politics. To this end, he finds in the editorial, militant and missionary praxis of the Society of Jesus the paradigm of a hegemonic conquest carried out on multiple fronts. The "indirect power" of the Jesuits thus asserts itself as a model and a counter-model, admired for its efficiency but condemned for its authoritarian rigidity. Gramsci therefore opposes the disciplinary drift of Jesuitism with a modern political party carrying an actively religious hegemony, that is to say, associating the subordinates in the development of a collective conscience.
Le concept d'hégémonie, au coeur de la recherche d'Antonio Gramsci, est indissociable d'une réflexion de fond sur la religion. La religion désigne chez Gramsci tantôt les religions historiques, en particulier le catholicisme, tantôt une conception du marxisme comme hérésie du libéralisme issue des groupes subalternes. Dès ses années turinoises, Gramsci décrit le socialisme comme une foi religieuse substituant à l'horizon surnaturel du christianisme un projet concret et rationnel. La montée du fascisme l'oblige à se confronter plus directement aux institutions et à la culture catholiques, à leur fonction de direction intellectuelle et politique, notamment auprès des masses paysannes. Cette confrontation prépare le tournant décisif qui s'opère pour Gramsci lors du Concordat de 1929 entre l'État fasciste et l'Église catholique. Commençant alors à rédiger ses Cahiers de prison, il étudie à travers cette actualité politico-religieuse le rapport d'influence réciproque entre économie, culture et politique. À cet effet, il trouve dans la praxis éditoriale, militante et missionnaire de la Compagnie de Jésus le paradigme d'une conquête hégémonique menée sur de multiples fronts. Le « pouvoir indirect » des jésuites s'impose ainsi comme modèle et contre-modèle, admiré pour son efficacité mais condamné pour sa rigidité autoritaire. Gramsci oppose donc à la dérive disciplinaire du jésuitisme un parti politique moderne porteur d'une hégémonie activement religieuse, c'est-à-dire associant les subalternes à l'élaboration d'une conscience et d'une volonté collectives.
El concepto de hegemonía, en el corazón de la investigación de Antonio Gramsci, es inseparable de una reflexión fundamental sobre la religión. Religión en Gramsci a veces designa religiones históricas, en particular el catolicismo, a veces una concepción del marxismo como la herejía del liberalismo resultante de grupos subordinados. Desde sus años en Turín, Gramsci describió el socialismo como una fe religiosa que reemplaza el horizonte sobrenatural del cristianismo por un proyecto concreto y racional. El auge del fascismo lo obliga a enfrentarse más directamente con las instituciones y la cultura católica, con su función de liderazgo intelectual y político, especialmente con las masas campesinas. Este enfrentamiento prepara el punto de inflexión decisivo para Gramsci durante el Concordato de 1929 entre el estado fascista y la Iglesia católica. Comenzando entonces a escribir sus Cahiers de prison, estudia a través de esta noticia político-religiosa la relación de influencia recíproca entre economía, cultura y política. Para ello, encuentra en la praxis editorial, militante y misionera de la Compañía de Jesús el paradigma de una conquista hegemónica realizada en múltiples frentes. El "poder indirecto" de los jesuitas se afirma así como modelo y contramodelo, admirado por su eficacia pero condenado por su rigidez autoritaria. Gramsci, por tanto, opone la deriva disciplinaria del jesuitismo con un partido político moderno que lleva una hegemonía religiosa activa, es decir, que asocia a los subordinados en el desarrollo de una conciencia y una voluntad colectivas.
Fichier principal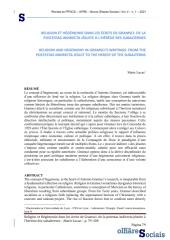 Religion et hégémonie - Novos Olhares Sociai 2021.pdf (1.23 Mo)
Télécharger le fichier
Origin : Publisher files allowed on an open archive