Territories, identities and strategies in Forez from the sixth at the first front millenium BC in the upstream basin of the Loire (France)
Le Forez du 6ème au 1er millénaire av. J.-C.
Territoires, identités et stratégies des sociétés humaines du Massif central dans le bassin amont de la Loire (France)
This thesis heading Territories, identities and strategies in Forez from the sixth at the first front millenium BC in the upstream basin of the Loire, relates to an extent in the north-Eastern part of the Massif central in contact with the Rhodanian corridor. This intramontane sector (current department of Loire 42) has allowed to build a consequent archaeological corpus which clarified behaviors having strong socio-economic and environmental implications. The archaeological study called upon various disciplines: agronomy, anthropology, archeometry (palynology, dating 14C, etc.), ceramology, geography, geomorphology, petrography, sedimentology, volumetry. It recuts several sets of themes : archaeological cartography, territorial studies, fluvial stratigraphy, the characterization and diffusion of materials, lithic, metallurgical and textile technologies, panoplies, architecture, territoriality and semantic. Principal results obtained :
- A analysis of geographical space and archaeological corpus,
- A typo-chronological test of classification of vestiges,
- The definition of lithic materials with the determination of the accessibility and exploitation of the tectonites foréziennes (set of tools, axes...),
- A chronostratigraphic approach of the flood plain of the Loire in Forez,
- Identifications of protohistoric territorial constructions,
- A analysis of the management of sowing and harvests during Bronze and Iron age and, - A technological and anthropological study of the metallic and textile protocolar ladies' garments between 1500-1000 BC from metallic rings covered.
Ce mémoire intitulé Territoires, identités et stratégies en Forez du 6ème au 1er millénaire av. J.-C. dans le bassin supérieur de la Loire (France), porte sur une étendue du nord-est du Massif central en contact avec le couloir rhodanien. Ce secteur intra-montagnard (département de la Loire, 42) a permis d'élaborer un corpus archéologique conséquent qui sert l'examen de comportements ayant de fortes implications socio-économiques et environnementales. Cette recherche archéologique fait appel à différentes disciplines : l'agronomie, l'anthropologie, l'archéométrie (la palynologie, la datation 14C, etc.), la céramologie, la géographie, la géomorphologie, la pétrographie, la sédimentologie et la volumétrie. Elle recoupe plusieurs thématiques : la carte archéologique, l'occupation du sol, les stratigraphies alluviales, la caractérisation et la diffusion des matériaux, les technologies lithiques métallurgiques et textiles, les parures, l'architecture, la territorialité et la sémantique. Les principaux résultats obtenus sont :
- une analyse d'un espace géographique et d'un corpus archéologique,
- un essai de classification typo-chronologique des vestiges,
- une définition des matériaux lithiques avec leurs conditions d'accessibilité et d'exploitation dont les tectonites foréziennes (outillages, haches...),
- une approche chronostratigraphique de la plaine alluviale de la Loire en Forez,
- l'identification de constructions territoriales,
- une analyse de la gestion des semences et des récoltes aux âges des Métaux et,
- une étude technologique et anthropologique des habits protocolaires féminins métalliques et textiles entre 1500 et 1000 av. J.-C., à partir des bracelets métalliques à incisions.
Fichier principal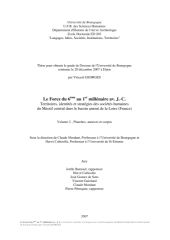 these_georges_2007_vol2.pdf (36.66 Mo)
Télécharger le fichier
these_georges_2007_vol1.pdf (74.77 Mo)
Télécharger le fichier