Analysis and ethical issues of Nanotechnology in Medicine : Time and discourse, systemic ethical approach : double discourse, psychoanalytic approach : complementarity of the discourses between science and theology.
Analyse et enjeux éthiques des nanotechnologies en médecine : temps et discours, approche éthique systémique : double discours, approche psychanalytique : complémentarité des discours entre science et théologie
This thesis will analyze the emergence of nanotechnology in medicine that poses the problem of the introduction of artificial and miniaturized components in the human body to heal or to alleviate physiological deficiencies or to improve the performance of the human body. These technologies allow the establishment of safe and early diagnosis of diseases such as cancer as well as targeted therapies and reconstructions ex nihilo of organs. This area of scientific progress still remains largely to be understood and analyzed. The study will focus on the development of an adequate ethic for the nanotechnology, the idea of transgression of limits implied in the transhumanist discourse on nanotechnology from a psychoanalytic point of view, and a fruitful tension between scientific and theological discourses.
Cette thèse analysera l'émergence des nanotechnologies en médecine qui pose le problème de l'introduction de composants artificiels et miniaturisés dans le corps humain pour soigner, pallier des insuffisances physiologiques voire améliorer les performances du corps humain. Ces technologies permettent de dresser un diagnostic sûr et précoce des maladies comme le cancer ainsi que des traitements ciblés et même des reconstructions ex nihilo d'organes. Ce domaine du progrès scientifique reste en grande partie encore à appréhender et à analyser. La réflexion se concentrera sur l'élaboration d'une nano-éthique adéquate, sur la notion de transgression des limites qu'implique le discours transhumaniste sur les nanotechnologies d'un point de vue psychanalytique, sur une tension fructueuse des discours entre science et théologie.
Fichier principal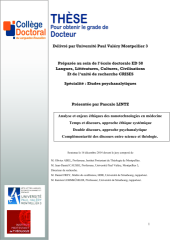 2014_LINTZ_arch.pdf (7.12 Mo)
Télécharger le fichier
Origin : Version validated by the jury (STAR)