Tracing Boundaries, Crossing Boundaries : An Essay on the Concept of "Border" in Syria at the End of the Second Millennium BC
Tracer des limites, les franchir : essai sur la notion de frontière, en Syrie, à la fin du deuxième millénaire avant Jésus-Christ.
If, as we would define it, the word "border" indicates a place of contact and exchanges between two spaces rather than a well-drawn line of separation, numerous borders exist: political, social, cultural, linguistic in an Ancient Near East often characterized as "a world without borders" since it shares the same cuneiform culture. From the fourteenth century BC to the beginning of the twelfth, the Syrian States have belonged to successive spheres of influence of powerful empires, Mitanni, Egypt, Hatti, which dispute them between themselves and fix their political borders, whereas the legal borders (to which jurisdiction you are under?) or economic ones (which authority imposes the tax obligations?) overlap. In Syria where the spoken languages are diverse, linguistic interspaces exist, are even created. Fringe areas are crossed ceaselessly, voluntarily (nomads, traders) or under duress (captives). To determine who is "a foreigner" is only possible in Syria in a relative manner. However, neither a true foreigner, nor a member of the community, a "resident foreigner" (since he is partly protected and may become integrated) can be one of these through whom the cultures are passed on.
Si, comme nous le suggérons, le mot « frontière » désigne un lieu de contact et d'échanges entre deux espaces plutôt qu'une ligne de séparation bien tracée, de nombreuses frontières existent, politiques, sociales, culturelles, linguistiques dans un Proche-Orient ancien qu'on qualifie souvent de « monde sans frontières » parce qu'il partage la même culture cunéiforme. Du XIVe siècle av. J.-C. au début du XIIe, les États syriens sont dans la mouvance successive d'empires puissants, Mitanni, Égypte, Hatti, qui se les disputent et fixent leurs frontières politiques, tandis que les frontières juridiques (de qui est-on justiciable ?) ou économiques (qui édicte les obligations fiscales ?) se superposent. Dans une Syrie où les langues parlées sont diverses, il existe, et même il se crée, des « entre-deux » linguistiques. Les zones frontières sont traversées sans cesse, volontairement (nomades, marchands) ou sous la contrainte (captifs). Dire qui est « un étranger » n'est possible en Syrie que de façon relative. Cependant, ni tout à fait étranger, ni membre de la communauté, un étranger résident peut, parce qu'il bénéficie d'une certaine protection et peut s'intégrer, devenir un de ceux par lesquels les cultures se transmettent.
Fichier principal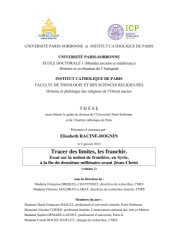 RACINE_DOGNIN_Elisabeth_2015_these.pdf (4.84 Mo)
Télécharger le fichier
Origin : Version validated by the jury (STAR)