Production and exchanges in the Middle Neolithic of Provence and Eastern Languedoc: techno-economic study of lithic assemblages
Productions et échanges dans le Néolithique moyen de Provence et de Languedoc oriental : étude techno-économique des assemblages lithiques
The Middle Neolithic is the Neolithic period following the first settlements of the Early Neolithic. This period takes place chronologically between the middle of the 5th millennium BC and the middle of the 4th millennium BC in the south of France. This period saw the emergence of important networks for the exchange of raw materials (flint, obsidian, jadeite, quartz). At the centre of these networks, Provence thank to the Bedoulian flints deposit and sites related to his production. This raw material it's exchange to a large distance, such as northern Italy, Catalonia, or the Swiss Plateau. Studying these exchanges means questioning the social relations inherent in the circulation of materials and know-how. This question will be study by a techno-economic approach to the lithic industry. The study combining statistical methods with a techno-economic approach, has made possible to define 5 chronological stages of the Southern Middle Neolithic. These results show importance of cultural contacts in the emergence of networks for the exchange of materials and techniques. The add of radiocarbon dating allow to study the evolution of the territories in the time. Provence appears as a technical catalyst area, with appearance of a certain number of innovations (pressure cutting, flint heating), thanks to contact with other cultural spheres during the 5th millennium BC. It is also in this region that funerary practices appeared, consisting of placing large Bedoulian flint blades in burials. These practices would later appear in Catalonia. These innovations were later imported over a vast territory from the Alps to the Pyrenees, until they formed a single technical complex in the 4th millennium BC. These results also made it possible to propose the hypothesis of the existence of several socio-geographical entities, and thus to highlight the importance of contact between human groups in the development of exchanges in the north-western Mediterranean.
El Neolítico Medio es el período que posterior a los primeros asentamientos del Neolítico Antiguo. Este período tiene lugar cronológicamente entre mediados del V y mediados del IV milenio a.C. en el Sureste de Francia. Es en este período, precisamente, cuando surgen importantes redes de intercambio de materias primas (sílex, obsidiana, jadeíta, cuarzo). En el centro de estas redes, el territorio de la Provenza ocupa un lugar especial, ya que es la región de procedencia del sílex Bedoulian. Los yacimientos y centros de producción documentados se encuentran en Vaucluse. Este sílex debió ser muy conocido, si tenemos en cuenta que se registra en yacimientos situados a varios cientos de kilómetros de distancia, caso del norte de Italia, Cataluña o la Meseta Suiza. Estudiar estos intercambios significa cuestionar las relaciones sociales, inherentes a la circulación de materias primas y a sus conocimientos. Por lo tanto, es a través de un enfoque tecno-económico de la industria lítica tallada que estas sociedades han sido analizadas. El estudio realizado en esta tesis, combinando métodos estadísticos con un enfoque tecno-económico, ha permitido definir 5 etapas cronológicas del Neolítico Medio. Estos resultados muestran que las zonas de contactos culturales pueden haber desempeñado un papel importante en la aparición de las redes de intercambio vinculadas a la circulación de materias y técnicas. Así, y gracias a la contribución de las dataciones por radiocarbono, la evolución de los territorios ha podido ser abordada. La Provenza aparece como un catalizador técnico que vio surgir un cierto número de innovaciones (talla a presión, tratamiento térmico del sílex), gracias al contacto con otras entidades culturales a lo largo del V milenio a.C. También es en esta región donde los inhumados enterrados en sepulturas suelen estar acompañados de grandes láminas de sílex de Bedoulian. Práctica que más tarde se repetirá en Cataluña. Estas innovaciones se importaron más tarde sobre un vasto territorio desde los Alpes hasta los Pirineos, hasta formar un único complejo técnico situado cronológicamente hacia el IV milenio a.C. Estos resultados también permitieron proponer la hipótesis de la existencia de varias entidades socio-geográficas, poniendo de relieve la importancia del contacto entre los grupos humanos en el desarrollo de los intercambios en el Mediterráneo noroccidental.
Le Néolithique moyen est la période du Néolithique faisant suite aux premiers établissements du Néolithique ancien. Cette période se place chronologiquement entre le milieu du 5e millénaire et le milieu du 4e millénaire avant notre ère dans le sud de la France. Cette période voit l'émergence de réseaux d'échanges de matières premières (silex, obsidienne, jadéite, quartz) importants. Au centre de ces réseaux, la Provence tient une place particulière puisque c'est la région de provenance des silex bédouliens, dont les gisements et les sites producteurs sont localisés dans le Vaucluse. Cette matière va connaitre un certain succès et va au cours du temps atteindre des régions lointaines de plusieurs centaines de kilomètres, comme l'Italie septentrionale, la Catalogne ou encore le Plateau suisse. Étudier ces échanges revient à questionner les relations sociales inhérentes à la circulation des matières et des savoir-faire. C'est donc par une approche technoéconomique de l'industrie lithique taillée que ces sociétés vont être abordées. L'étude menée ici couplant des méthodes statistiques à une approche technoéconomique a permis de définir 5 étapes chronologiques du Néolithique moyen méridional et ainsi d'étudier ces industries lithiques dans leur diachronie. Ces résultats montrent que les zones de contacts culturels ont pu jouer un rôle important dans l'émergence de réseaux d'échanges de matières et de techniques. Ainsi, grâce à l'apport des datations radiocarbones, l'évolution des territoires a pu être abordée étape par étape. La Provence apparait ainsi comme un catalyseur technique qui a vu apparaitre un certain nombre d'innovations (débitage par pression, chauffe du silex), grâce au contact avec d'autres sphères culturelles au cours du 5e millénaire avant notre ère. C'est également dans cette région qu'apparaissent des pratiques funéraires, consistant à déposer des grandes lames en silex bédoulien dans des sépultures, pratiques qui vont ensuite apparaitre en Catalogne. Ces innovations s'importeront par la suite sur un vaste territoire des Alpes aux Pyrénées, jusqu'à ne former qu'un seul complexe technique au cours du 4e millénaire avant notre ère. Ces résultats ont également permis de proposer l'hypothèse de l'existence de plusieurs entités sociogéographiques, et ainsi de mettre en avant l'importance du contact entre groupes humains dans le développement des échanges dans le nord-ouest de la Méditerranée.
Il Neolitico medio è il periodo del Neolitico successivo ai primi insediamenti del Neolitico antico. Nel Sud della Francia, questo periodo si colloca cronologicamente tra il V millennio a.C. la metà del IV millennio a.C.. In questo periodo si sviluppa un importante sistema di scambi di materie prime (selce, ossidiana, giadeite, quarzo) sulle lunghe distanze. Al centro di questo sistema si colloca la Provenza, dove si trovano i principi giacimenti e i siti di produzione di selce bedoulian, localizzati nel Vaucluse. Durante il Neolitico medio, questa materia prima diviene importante e si diffonde nell'Italia settentrionale, nella Catalogna e sull'Altopiano svizzero. Lo studio di questi scambi, permette di interrogarsi sulle relazioni sociali che interessano la circolazione delle materie prime e delle tecniche. È dunque attraverso un approccio tecno-economico dell'industria litica che bisogna approcciarsi a queste società. Lo studio qui condotto, che congiunge i metodi statistici all'approccio tecno-economico, ha permesso la definizione di cinque fasi cronologiche del Neolitico medio meridionale e lo studio diacronico dell'industria litica. I risultati dimostrano che le aree di contatto culturale possono aver giocato un ruolo importante nella nascita dei sistemi di scambio delle materie prime e delle tecniche durante il V millennio a.C.. Inoltre, grazie all'apporto delle datazioni al radiocarbonio, si è potuto affrontare l'evoluzione dei territori fase dopo fase. La Provenza si configura come un catalizzatore di tecnologie che ha visto la nascita di una certo numero d'innovazioni (scheggiatura per pressione, riscaldamento della selce) grazie ai contatti con altre sfere culturali nel corso del V millennio a.C.. È in questa stessa regione che si manifestano delle pratiche cultuali che consistono nel deporre delle grandi lame di selce bedoulian nelle sepolture. Pratiche che successivamente appariranno in Catalogna. In un secondo momento, queste innovazioni saranno esportate su un vasto territorio compreso tra le Alpi e i Pirenei, fino a costituire un unico complesso di tecnologie nel corso del IV millennio a.C.. Questi risultati hanno permesso inoltre di ipotizzare l'esistenza di diverse entità socio-geografiche, e di sottolineare l'importanza del contatto tra gruppi umani nello sviluppo degli scambi nel Nord-Ovest del Mediterraneo.
Fichier principal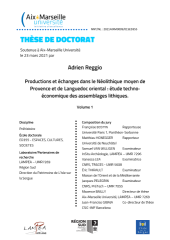 Reggio2021_Thèse_Complet.pdf (33.74 Mo)
Télécharger le fichier
Origin : Files produced by the author(s)