Agent-Based Models and Simulations in Economics and Social Sciences: from conceptual exploration to distinct ways of experimenting.
Now that complex Agent-Based Models and computer simulations spread over economics and social sciences - as in most sciences of complex systems -, epistemological puzzles (re)emerge. We introduce new epistemological concepts so as to show to what extent authors are right when they focus on some empirical, instrumental or conceptual significance of their model or simulation. By distinguishing between models and simulations, between types of models, between types of computer simulations and between types of empiricity obtained through a simulation, section 2 gives the possibility to understand more precisely - and then to justify - the diversity of the epistemological positions presented in section 1. Our final claim is that careful attention to the multiplicity of the denotational powers of symbols at stake in complex models and computer simulations is necessary to determine, in each case, their proper epistemic status and credibility.
En économie et en sciences sociales, comme dans la plupart des sciences ayant pour objets des systèmes complexes, les modèles et les simulations sur ordinateur à base d'agents se développent considérablement. Or, des difficultés épistémologiques (ré)émergent en cette occasion. Nous introduisons ici de nouveaux concepts épistémologiques de manière à montrer dans quelle exacte mesure les chercheurs en sciences sociales ont raison lorsqu'ils se concentrent sur la signification tantôt empirique, tantôt instrumentale, tantôt conceptuelle de leur modèle ou de leur simulation. En établissant des distinctions entre modèles et simulations, puis entre types de simulations, enfin entre types d'empiricité obtenus au moyen d'une simulation, la section 2 donne la possibilité de comprendre - et de justifier - plus précisément la diversité des positions épistémologiques présentées dans la section 1. Notre thèse finale est la suivante : une attention soutenue à la multiplicité des pouvoirs de dénotation des symboles en jeu dans les modèles complexes et dans les simulations sur ordinateur est nécessaire pour déterminer, dans chaque cas, leur statut épistémique propre et leur crédibilité.
Fichier principal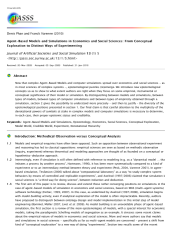 Phan_Varenne_JASSS_2010.pdf (315.46 Ko)
Télécharger le fichier
Origin : Explicit agreement for this submission