Hybridation des savoirs en intelligence économique. Quel rôle pour les blogs ?
The french professional community of competitive intelligence has developed a wide range of blogs whose projects hesitate between personal promotion dans dissemination of knowledge. The Tools are technically conceived to make hybridization of knowledge possible. The present study sought to understand wether a hybridization of scientific knowledge on competitive intelligence was observed or not. The results show a strong hybridization in the field of professional concerns, but not on the basic of scientific knowledge.
La communauté de l'intelligence économique fourmille de blogs dont le projet oscille entre promotion personnelle et diffusion de connaissances. Ces outils modernes sont techniquement construits d'une manière telle qu'une hybridation des connaissances puisse s'opérer par leur entremise. L'étude présentée a cherché à comprendre si, dans ce cadre, une hybridation des connaissances scientifiques sur l'intelligence économique était observable. Il en ressort qu'une forte hybridation s'opère bien sur le terrain des sujets de préoccupation professionnels, mais pas sur la base de connaissance scientifiques.
Fichier principal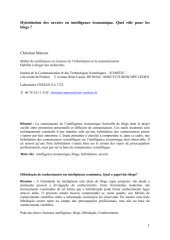 MUSSI 2011 Marcon Hybridation des connaissances.pdf (171.89 Ko)
Télécharger le fichier
Origin : Files produced by the author(s)