Annecy et Chambéry sous l'Ancien Régime
Annecy and Chambéry seem to be nowadays prosperous and dynamic urban areas. Was it always so? Placed from the beginning of the XVth century, under the same authority, the duke of Savoy, these two cities, that had similar aspect and similar assets have known different fates. Chambéry, political capital of the duchy of Savoy and the most populated city in this side of the Alps, detains surely the ascendancy. To encircle better the relations between these two cities during the Ancien Régime (XVIth-XVIIIth centuries), it is necessary to envisage them at first under the demographic point of viem, for, at that time, human resources are essential for controlling a space. The economic weight of both urban areas must be also estimated, Annecy distancing itself little thanks to its premature industries. We also evoke more widely the political life, the driving element and the factor of social and economic stability because both centers shelter princely Courts. Finally, two qualitative aspects have also their place in this essay of comparison: the religion and the culture. Seat of Geneva's bishop as of 1536 and saint François de Sales residence, Annecy holds, on the religious plan, a certain advance on Chambéry. Elites compete in initiatives (libraries, literary sets, education) to endow both cities of a cultural life throughout the considered period.
Annecy et Chambéry donnent de nos jours l'image de centres urbains prospères et dynamiques. En a-t-il toujours été ainsi ? Placées à partir du début du XVe siècle, sous une même autorité, celle du duc de Savoie, ces deux villes à l'aspect et aux atouts si semblables connaissent des destinées différentes. Chambéry, capitale politique du duché de Savoie et ville la plus peuplée deçà les Monts, détient assurément la prépondérance. Pour mieux cerner les relations entre ces deux cités au cours de l'Ancien Régime (XVIe-XVIIIe siècles), il faut d'abord les envisager sous le rapport démographique, tant il est vrai qu'à cette époque les ressources humaines sont essentielles à la maîtrise d'un espace. Le poids économique des deux agglomérations doit également être apprécié, Annecy se démarquant un peu grâce à ses industries précoces. On évoque ensuite plus longuement la vie politique, élément moteur et facteur de stabilité sociale et économique car les deux centres abritent des cours princières. Enfin, deux aspects qualitatifs ont également leur place dans cet essai de comparaison : la religion et la culture. Siège de l'évêché de Genève dès 1536 et résidence de saint François de Sales, Annecy détient sur le plan religieux une avance certaine sur Chambéry. Les élites rivalisent d'initiatives (bibliothèques, cénacles littéraires, enseignement) pour doter les deux villes d'une vie culturelle tout au long de la période considérée.
Annecy e Chambéry danno l'immagine di centri urbani prosperi e dinamici oggigiorno. Ne ha sempre estate così? Poste a partire dall'inizio del Cinquecento, sotto una stessa autorità, quella del duca della Savoia, queste due città all'aspetto ed alli vantaggi così simili conoscono dei destini differenti. Chambéry, capitale politica del ducato di Savoia e città più popolata di qua dai Monti, detiene certo la preponderanza. Per conoscere meglio le relazioni tra queste due città durante il vecchio Regime (XVI-XVIII secoli), occorre di accesso considerarli sotto il profilo demografico, tanto è vero che durante questa epoca le risorse umane sono essenziali alla padronanza di un spazio. Il peso economico delle due agglomerazioni devono anche essere apprezzate, Annecy che si smarca un poco grazie alle sue industrie precoci. Si rievoca poi più a lungo la vita politica, elemento motore e fattore di stabilità sociale ed economica perché i due centri riparano delle Corti principesche. Due aspetti qualitativi hanno infine, anche il loro posto in questo paragone: la religione e la cultura. Sede del vescovato di Ginevra dal 1536 e residenza di santo Francesco di Sales, Annecy detiene sul piano religioso un anticipo certo su Chambéry. Le élite rivaleggiano di iniziative (biblioteche, cenacoli letterari, insegnamento) per dotare le due città di una vita culturale durante il periodo considerato.
Fichier principal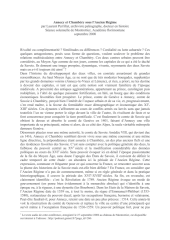 LPerrillat_Annecy_Chambery_souslAR.pdf (132.96 Ko)
Télécharger le fichier
Origin : Files produced by the author(s)