La maison de Bérenger Mage, viguier de Lagrasse au XIIIe siècle, et son plafond peint armorié
In the 1270s the Mage, a bourgeois family in integration with the nobility, had a rich house built in Lagrasse. It shows its new social status by a hall realized in the fashionable Gothic style : carved decoration of the windows coming from the site of the cathedral of Carcassonne ; Ceiling painted mixing French and Hispanic influences. The currently visible part of the painted decoration shows geometric patterns and fantastic animals alternating with armed riders. The heraldic decoration, realized around 1278-1279 maybe by a workshop of Carcassonne, reflects the political and social situation. It evokes the war won in 1277 by France on the Castile for Navarre. Are represented kings involved in the conflict, barons of the Carcassonne' Seneschalsy and members of the Mage family probably mobilized in this war. This decoration is an exceptional testimony to the patrician houses of the end of the 13th century and the dynamism of a city in full expansion.
En la década de 1270 els Mage, una familia burguesa en el proceso de integración a la nobleza, se hizo construir un hogar rico en Lagrasse. Se manifiesta su nuevo estatus social de una sala de recepción hecha en el estilo gótico en la moda : decoración tallada de las ventanas desde el obra de la catedral de Carcasona ; techo pintado mezclando influencias francesas e hispánicas. Actualmente la parte visible de la decoración pintada muestra motivos geométricos y animales fantásticos que alternan con jinetes armados. La decoración heráldica, hecha alrededor de 1278-1279 quiso por un taller de Carcasona, refleja la situación política y social. Se refirió a la guerra ganada en 1277 por Francia contra Castilla para la posesión de Navarra. Son representados soberanos involucrados en el conflicto, barones de la senescalía de Carcasona y miembros de la familia Mage probablemente movilizados en esta guerra. Esta decoración es un testimonio excepcional de las casas patricias de finales del siglo XIII y el dinamismo de una ciudad en crecimiento.
Dans les années 1270 les Mage, une famille bourgeoise en cours d'intégration à la noblesse, se fait construire une riche maison à Lagrasse. Elle manifeste son nouveau rang social par une salle de réception réalisée dans le style gothique à la mode : décor sculpté des fenêtres provenant du chantier de la cathédrale de Carcassonne ; plafond peint mêlant influences françaises et hispaniques. La partie actuellement visible du décor peint montre des motifs géométriques et des animaux fantastiques alternant avec des cavaliers en armes. Le décor héraldique, réalisé vers 1278-1279 peut-être par un atelier carcassonnais, traduit la situation politique et sociale. Il évoque la guerre gagnée en 1277 par la France sur la Castille pour la Navarre. Sont ainsi représentés des souverains impliqués dans le conflit, des barons de la sénéchaussée de Carcassonne et des membres de la famille Mage probablement mobilisés dans cette guerre. Ce décor est un témoignage exceptionnel sur les maisons patriciennes de la fin du XIIIe siècle et le dynamisme d'une ville en pleine expansion.
Fichier principal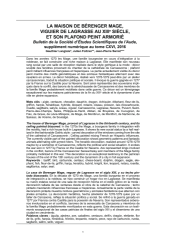 Langlois-vlongue-300dpi.pdf (30.66 Mo)
Télécharger le fichier
Origin : Files produced by the author(s)